Posted: Jul 07, 2014 7:00 AM
Alysia Montano inspired the world when she ran an 800-meter race in the U.S. Track and Field Championships in Sacramento, California. Pretty cool, right? Oh, wait. We forgot to mention that she's currently 34 weeks pregnant. How cool is she now?
Photo credit: Molly Smith

Montano said after the heat, "I've been running throughout my pregnancy and I felt really, really good during the whole process." She may have finished last but she won over the audience who gave her a standing ovation when she crossed the finish line. Montano finished at 2 minutes, 32.13 seconds, approximately 35 seconds slower than her personal best of 1:57.34, which she accomplished in 2010.
She added, "That took away any fear of what the outside world might think about a woman running during her pregnancy. What I found out mostly was that exercising during pregnancy is actually much better for the mom and the baby... I did all the things I normally do... I just happened to be pregnant. This is my normal this year."
Super-inspired by Montano, we looked to other moms who exercised throughout their pregnancies — and have healthy babies to show for it.
To the top
One of my very best friends, Tina H., welcomed her first child last September. But not before tackling a four-mile uphill hike of the Grand Tetons. She had been hiking on a regular basis for well over five years before she got pregnant. She says of hiking while pregnant, "Besides wanting to maintain overall good health and weight while being pregnant, I wanted to continue hiking (and working out) because I was told by my doctor that it might help me have an easier pregnancy and delivery (I was terrified to physically give birth). So I was game for anything to make it easier!"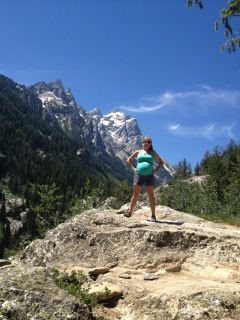 Her doctor advised her to keep her heart rate at or below 120, but added that as long as she felt physically OK (i.e., was not out of breath), she could let her body tell her what do to. "There were many times I went over 120 but I never felt sick or tired," she adds.
Of her biggest hiking accomplishment during pregnancy, Tina says, "When I was six months pregnant, my husband and I vacationed in Wyoming. I hiked four miles up the Grand Tetons (and of course I had to come back down the four miles also). A man and his two young sons stopped me and asked how far along I was and how much extra weight I was carrying. I told him an extra 19 pounds. He looked at his sons and said, 'Boys, if she can do this so can you… I don't want to hear anymore complaining!'"
Tina hiked up until two weeks before she gave birth. On Sept. 16, 2013, she welcomed a baby girl whom she now straps into her Baby Bjorn or stroller and takes her up the mountain.
Photo credit: Tina H.
Run, Erin, run
Erin E. had been running on and off since she was a tween but really got serious about it 10 years ago after her second son was born. She says, "I had gained a significant amount of weight after my first son and didn't lose all of it before getting pregnant with my second. Plus, I was turning 30." As soon as her doctor gave her the OK to exercise after her second son was born, she started running two miles a day, five days a week. She adds, "I lost the weight, found a half-marathon training program to try and from I there was hooked."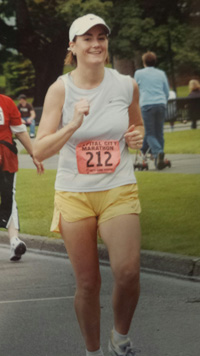 During her third pregnancy, Erin didn't discover she was pregnant until she was almost through with an 18-week marathon training program. She says, "At that point, I had done all of the hard training for my first marathon, and I was very committed to seeing it through. My doctor gave me her blessing, and I continued my training and finished my first marathon at 12 weeks pregnant. I ran until about the seventh month mark with that pregnancy. With my fourth son, I ran most of my pregnancy because it was easy. I had been running for years, knew what I was doing, knew I was in shape to do it and felt better if I did."
Erin says that completing a marathon while pregnant is one of the most amazing accomplishments. She says, "Completing a marathon was never something I thought I would do... and it was extremely fulfilling. It just added another layer that I did it pregnant! Everyone thought I was crazy — but I did it!"
Photo credit: Erin E.
And then there's me
While I certainly don't put myself into the same kick-butt category as these women, I have maintained a workout routine most of my adult life, give or take a few months off here and there. When I was 29 I began running and self-training for a half-marathon that I'd agreed to do with my sister-in-law and brother-in-law in Las Vegas. Running became such an amazing part of my life during that time. Completing the half was like a high. And of course I had to pose with the "dancers" that were cheering us on at the finish line, Sin City style.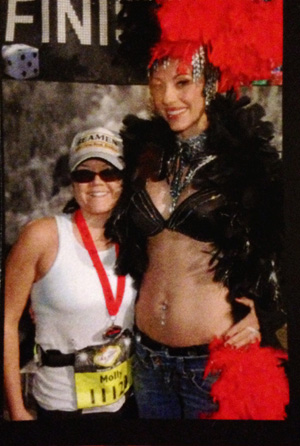 A few days after my husband and I returned from that trip, I had gone to the doctor to let him know that we were going to start trying to have a baby and to see if there was anything specific I should start doing. He recommended some pre-natal vitamins, took my blood and sent me on my merry way.
He called me shortly thereafter to announce the news — I was already pregnant. I was horrified because I had just been in Vegas and we all know what happens in Vegas stays there so I'm not going to say much about my experience beyond the half-marathon. However, I spilled the beans to my doctor. He laughed and said, "Yea, a few nights in Vegas is how this usually happens." All jokes aside, that freaked me out enough to discontinue running during my pregnancy, I maintained an exercise program of walking, hiking and doing pre-natal yoga and exercise DVDs until my son was born.
My kids are now four and six, and I like to think I've instilled a healthy idea of the importance of exercise. We walk, hike or they ride their scooters and I jog on a regular basis. Earlier this year, they completed their first 5K fun run with me and my parents by their side.

Whether you're pregnant, still wanting to get the baby weight off or just want to get healthy before trying to conceive, always chat with your doctor before setting off on a major lifestyle change — especially if you're already expecting.
Photo credit: Molly Smith