Posted: Sep 17, 2014 5:00 AM
There are some things the experts don't tell you and, all too often, what you need to know about having a baby falls into this category. We're here to fix that with everything you need to know about giving birth from moms who've been there.
Photo credit: Photodisc/Getty Images

Some people say there are things about giving birth that you have to learn by just going through it. We are not those people. Author of A Good Birth, Dr. Anne Drapkin Lyerly, says, "So much of the birthing literature encourages women to prepare, or "educate" themselves, but then fails to deliver the truth — what really happens and what women who've been through it know matters most. That leaves too many new moms wondering what happened or who to blame when their birth (inevitably) veers from expectations, rather than relishing their birth for all the things that made it special, wonderful and a life event to embrace." We agree with Lyerly and are here, girlfriend-to-girlfriend, to share what really happens on the birthing table that we wish we would have known before we got there. Six women dish about their tales from the table.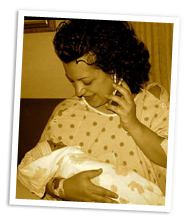 Leah is the author of Red Circle Days and writer at Little Miss Wordy. About her tale from the table, Vidal says, "No one ever told me to buckle up for the roller coaster of emotions I would experience during labor — fear, embarrassment, pain, humiliation, tears of joy. They also never mentioned I would ride that roller coaster once more after I took my daughter home."
Image credit: Leah Vidal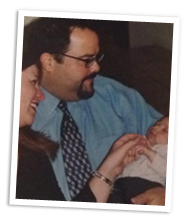 Vicky is busily raising two kids while still growing up herself. She writes at The Pursuit of Normal. About her tale from the table, Willenberg says, "I had no one to blame but myself for the difficulties I encountered delivering my first son. Nothing tragic, but going into labor on a Wednesday and not giving birth until Friday was not what I'd planned. But therein lies the problem — I had no plan. I figured I'd wing it. Women have been doing it for thousands of years, right? Lesson #1: No one can "wing" childbirth. With my second delivery I was going to do it differently. I took a Bradley class, did my homework and read countless books. And it worked! Nine hours after my water broke, my second sweet boy arrived. As did Lesson #2: A drug-free delivery might be quicker but no one tells you that the pain doesn't end after delivery. Without the dulling effects of an epidural, delivering the afterbirth and the subsequent hours of uterus shrinking were more painful than the delivery. Somehow that was not in the books I read."
Image credit: Vicky Willenberg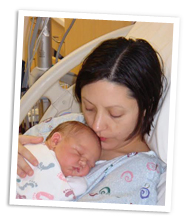 Jen is a quality and regulatory professional, a wife and a mom to two young girls, who writes about parenting at Tranquila Mama. About her tale from the table, Gaskell says, "I had no idea that an epidural could possibly cause you to vomit. It happened not once, but twice with both daughters. Having a puke bucket right next to a mom would be helpful, just in case."
Photo credit: Jen Gaskell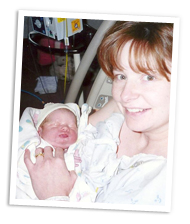 Jennifer is the usually humorous, occasionally serious, sometimes on a rant but always real voice behind Real Life Parenting. About her tale from the table, Hicks says, "I had heard tales of women's water breaking in embarrassing places, so I thought I was out of the woods when my amniotic fluid was intact when I arrived at the hospital. Not so much. The nurse broke my water when I was in labor with my son, and I never anticipated that there would be so much fluid. Even she commented on 'the flooding' and had to call in a custodian to mop the floor. Eighteen months later when I was delivering my daughter, I gave my veteran doctor a surprise… and the opportunity to change his scrubs after he was soaked in amniotic fluid. "Sorry about that" was all I could muster."
Image credit: Jennifer Hicks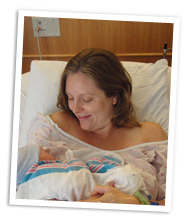 Allison is a mom still trying to figure it out, and chronicling the highs and lows at Go Dansker Mom. About her tale from the table, Carter says, "Despite the temptation, avoid eating anything big and celebratory right after birth. The hamburger and beer might look delicious, but you will end up doubled over with abdominal pain, having to ask embarrassing questions of your poor nurse... who probably tried to warn you. I speak from personal experience."
Image credit: Allison Carter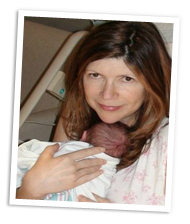 Estelle is a former magazine editor, and blogs about being the midlife mom of a young daughter at Musings on Motherhood & Midlife. About her tale from the table, Erasmus says, "My doctor told me and my husband that our baby would be over nine pounds if I went to full term. So I was scheduled to be induced in my 39th week. After being induced, my water broke early into the labor, but after 15 hours I still wasn't dilated enough to give birth. Although it wasn't my first choice, I wanted to do what was best for the baby so I ended up opting for a C-section because there was a small window of opportunity where the anesthesiologist was available and before it could potentially be an emergency C-section. I was scared and asked my doula, who was in the hospital with me, for advice on how I should handle my fear. Knowing that I was classically trained as a vocalist, she said, "Why don't you sing if it relaxes you." And that's how my daughter came into the world, to the tune of 'The Hills are Alive with the Sound of Music,' sung in my best operatic mezzo soprano voice, as they lifted all eight pounds 12 ounces of her out of my body. No one told me how quickly plans can change, that you'll do anything to get your baby through the birth safely and that giving birth becomes the first instance that you are really thinking of the baby's needs instead of your own, even before she leaves your body."
Image credit: Estelle Erasmus
More on your pregnancy
Let's {respectfully} discuss gender disappointment
Pregnant with the wrong baby
Love that bump