Posted: Mar 30, 2012 12:31 PM
Every time red jeans come back in style, I roll my eyes. Red jeans are not for me. Classic blue denim -- dark or faded, it doesn't matter -- looks best on jeans, I've always thought. Let's not mess with something so timeless. But as the brightly-colored jeans trend gets louder (pardon the pun), I've started to like the boldness it gives the average outfit.
I tried a pair on and wrinkled my nose in the dressing room mirror. They were just so bright. Did I want to wear the same hue as my toddler? But I kept seeing them, and finally, after I found them on sale at Gap, I gave them another whirl. This time, in a royal blue, I could imagine a few things in my closet that might not look terrible. That might, if I was feeling bold, even look really cute.
I tried on a pink pair, a nice color, slightly faded. I liked them, but the length wasn't quite right, and I thought pink might not take me through as many seasons as some of the other colors. It helps that most of the colored jeans are a softer, stretchier material than traditional denim. Comfort is a huge factor for me when choosing clothes.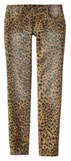 After my husband pointed out that blue — bright as it might be — is not exactly daring in the jeans department, I saw an inexpensive pair of leopard print denim at Target. Along with the brighter colors for spring, animal patterns and florals have also been popping up in the magazines and catalogs. I didn't think I could pull it off, but leopard is a staple, right? It's a basic. They weren't a huge investment, and I figured I could pair them with something very simple on the top.
And it's true. When the candy-colored statement is on your legs, you can be very simple with everything else. I'm drawn to a simple white T-shirt and minimal jewelry or a contrasting stripe and smooth hair.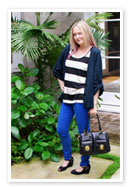 Here, I'm wearing the 1969 mid-weight legging jeans ($70) in brilliant blue from Gap, a striped jersey tank ($23) in black and beige from Gap, a slouchy cardigan from Acrobat clothing and black Regina wedges ($115) by Jeffrey Campbell.
After a certain age, it's best to find a good personal style and leave some of the zanier trends to the teenagers. But the bright-colored denim can work on anyone, and I do think it will have more staying power. At least until neutrals steal the show again.
More about beauty & fashion
Beauty products that every busy mom needs
Break the beauty mold: A five-minute routine
Fashion finds: Personalized jewelry