Posted: Mar 31, 2012 10:59 AM
There has to be some sort of medium between my favorite gray sweatpants and dressed to the nines. I tell myself that I'll feel better and be more productive if I look decent on the days when I stay home, but the truth is that my sweatpants are comfortable. And I'm more apt to be productive when I'm comfortable than when I'm wiggling against my muffin top.
Lately I've been making a concerted effort to be dressed and makeup'd for the day, even if no one but my kids and my computer screen will see it.
It's not about getting more done (because I'm not convinced that I do); it's about not being embarrassed if the doorbell rings. It's about feeling confident if a photo op presents itself with the kids. In short, it's about respect for myself and my family.
Cargo pants are a staple in my closet. For me, they're the perfect balance of comfort and cute. My favorite pair of cargo pants are Blank NYC cargo skinnies ($78), but I have a great pair from J.Crew (pictured). I wear them with a light sweater like this striped one ($40) from Gap.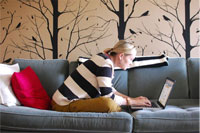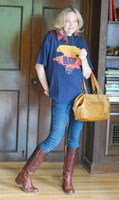 Jeans and T-shirt are another classic combo that I can throw on and feel put together but not boring. I've had these stretch skinny Levi's ($46) for years, they're clingy enough to put riding boots or even Uggs over them. Pair them with any kind of T-shirt and some pretty jewelry and conquer your day.
Both of those outfits can take me from my home office desk, to the park, to the grocery store. I'm presentable, yet comfortable enough to chase my kids. On the days when I do make it out and about for something beyond my mom duties, I love to wear a dress.
A dress is an outfit all in one piece! So I don't have to think about what goes with what. I love shift dresses or maxi dresses during the day. This orange shift dress is from H&M. Depending on the weather, I wear dresses with boots or flats.
In the busiest season of my life, I save the heels for nighttime occasions only. I need my daytime outfits to be cute and functional. I won't promise that I've given up on my old gray sweatpants, but I'm trying to limit their wear to the weekend or particularly lazy days. My mom also told me that if you look nice, you'll act nice. Clearly this isn't true for everyone in the world, but it's a sentiment I try to remember.
More about beauty & fashion
Embrace the colored jeans trend
Break the beauty mold: A five-minute routine
Fashion finds: Personalized jewelry