Posted: Oct 21, 2012 5:00 AM
We all have one -- the hat you throw on for dirty hair days. Go get it right now... and throw it in the trash (or at least put it in the back of the closet where it belongs). For moms, it's a reality that many days, there just isn't time to wash our hair, so let's embrace it and make our dirty hair days the best days of the week for our locks!
These fun and easy-to-use hair accessories will help get you there... we promise!
Buns aren't just for librarians anymore
Check out the fashion or celebrity magazine on your coffee table — buns are all the rage right now and lucky for you, dirty hair works best for buns!
Often called "top knots" and worn high on the top of your head, buns can be tricky to wear, especially if you have hair that is fine or without much texture to keep it in place. For dirty hair buns, try the Spin Pins by Goody Simple Styles — you don't even need a ponytail holder!
Dirty hair can still be pretty

Trust us... nobody is going to notice that you haven't washed your hair yet this week with this gorgeous Heart Headband by ban.do. This brand is sweeping the world of celebrities (who surely also have a dirty hair day here or there!) and have been worn by Carrie Underwood and are a favorite of Taylor Swift. This heart headband comes in red, gold and hot pink, so you can choose how much you'd like to stand-out — wear that dirty hair with pride, mamas!
For when a ponytail is necessary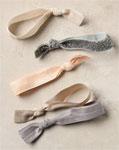 If for you, dirty hair automatically means ponytail, never fear — we have a solution for you too! Take your dirty hair ponytail to the next level with these adorable and easy to wear Multitude Hair Ties from Anthropologie. Not only are they incredibly soft and super stretchy so that they will work in any type of hair, but you can always keep one on your wrist to have handy for last-minute ponies — they look just like a sweet little bracelet!
It exists... a headband that actually stays on
When you have bangs, dirty hair days can take on an entirely new meaning — there's really nothing worse than greasy bangs, right? But the one thing that is worse than greasy bangs is a headband that keeps falling off. Meet the Skinny Satin Pirouette Headband by lululemon. This pretty headband is pre-shrunk, adjustable and has silicone on the inside that sticks to your hair to help keep it in place. Pull your dirty bangs out of your face with this headband and get your day moving!
More about beauty & fashion
Beauty products that every busy mom needs
Break the beauty mold: A five-minute routine
Fashion finds: Personalized jewelry