Posted: Apr 09, 2012 6:20 PM
We're all about the trends and styles for summer 2012, but you want to look for the style of bathing suit that works the best for you. It doesn't matter if it's a bikini, a tankini, a full swimsuit or a Miu Miu -- as long as you feel comfortable, that's what really matters.
When shopping for a swimsuit, be on the lookout for specific trends. We have four pieces of style advice to share with you on swimsuit season.
Brighten up with tangerine
Find a fabulous tangerine suit! Tangerine is the boldest, most beautiful hot color right now, and we promise you will pop and look fabulous on the beach or at the pool.
Stand out in prints
Prints are really, really in right now. Find a print that you absolutely love. We're totally into geometric shapes and nautical ropes. Prints are fierce and work magic at the beach and/or pool when you're trying to stand out. And who doesn't want to stand out!
Slim down with basic black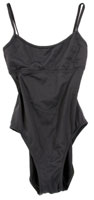 You cannot go wrong with a basic black bathing suit. Black bathing suits will slim and flatter you like nobody's business, so definitely bring one in if you're still wondering what to do.
Disguise figure flaws
And finally, ruching. Let ruching be your new beach/pool best friend. Ruching will hide any problem (ahem) areas on your back or tummy that you're looking to cover up. Have some fun and bring out the trends and styles this swimsuit season of 2012!
More about beauty & fashion
Embrace the colored jeans trend
Break the beauty mold: A five-minute routine
Fashion finds: Personalized jewelry