Posted: May 28, 2012 8:00 AM
I'm not sure there's much worse than swimsuit shopping (except maybe bra shopping, that can be pretty demoralizing too!), but the triumph you feel when you finally find the perfect suit is almost as big of a high as a full night of sleep! I sat down with Camila Ckless, founder of Guria Beachwear, to get her best fit tips and bathing suit styles for moms.
Guria Beachwear is a favorite of the allParenting editors because it's so versatile. Reversible suits give you two looks for the price of one. Their classic 3-in-1 top gives you three different looks -- bandeau, triangle or halter -- for just one price. And their skirted bottom can be tugged up or down, depending on how cheeky you feel!
If you have larger breasts, try: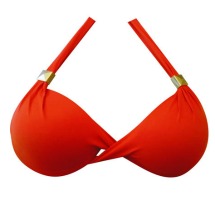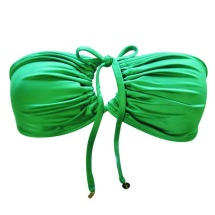 An underwire halter top: The combination of the boost from an underwire top and the lift of a halter top provide women with ample breasts the coverage and support they need. Try the Underwire Halter Top. This top, while modern and sexy, flatters larger breasts by offering the most coverage and providing great support with underwire. Molded cups and soft ties at the neck and back help to make this one of our favorite tops.
A 3-in-1 Chic Top: We love this 3-in-1 Chic Top and Skirted Bottom because it's like three completely different looks in one and has an affordable price tag. The bandeau accommodates nursing, while the triangle top is great when you're feeling sexy. The praise-worthy and ever-popular suit makes its sixth appearance this season, continuing to provide triple the choices as it can be converted from triangle to halter to bandeau. Talk about getting the most for your money! Complete with removable pads and sliding gold plated and black resin accents on the straps, you are able to easily adjust the top to what makes you feel comfortable.
If you have wide hips, try: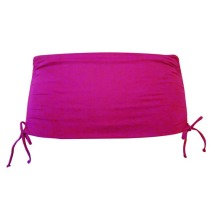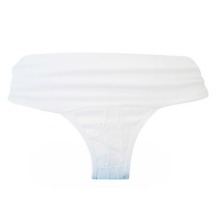 A skirted bottom: Get a little extra coverage over your bum and thighs without losing the look and shape of a two-piece. We love that Guria's Skirted Bottom is adjustable! The flexibility of this bottom gives you more or less coverage and a smooth fit and is stylish worn either way. The waistband can be adjusted to be worn low or high on the waist. When rolled down, the waistband converts into a skirted, fully-lined bottom.
A shirred banded bottom: Guria's Shirred Banded Bottom gives you coverage without sacrificing the bikini look. This high-waist bottom is fully lined, which provides great coverage and offers a smooth fit with full coverage. The wide, shirred waistband is truly flattering.
Some other styles to try: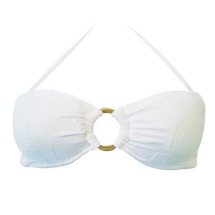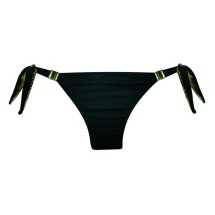 A padded bandeau: For smaller chests, these pads provide a little extra oomph and the molded cups keep this Padded Bandeau in place.
Get the celebrity look with Guria!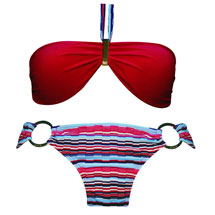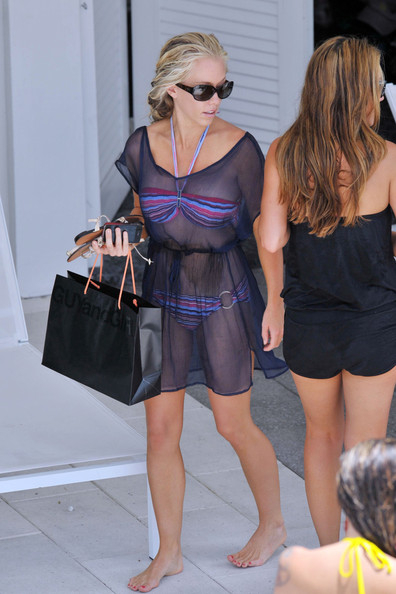 Get Kendra's beach look: Kendra Wilkinson was recently spotted lounging in a Guria Reversible Padded Bandeau and Hipster Bottom, looking great as always. Not only does she look rock the suit, it's actually affordable...especially since it's reversible and like two suits in one! And don't forget, if you're not a fan of the top or bottom style you can always mix and match. The Sail Away print that Kendra sports is also available in a reversible triangle top, a (non-reversible) 3-in-1 top, thick tie-side bottom and a scrunch low-rise bottom.
Why we love Kendra's beach look: We love seeing celebrities wear clothing we can actually afford. Personally, I'm a big fan of Kendra because she still had the tinest bit of babyweight on her while filming her reality show, Kendra. I loved it because she was beautiful in a real way that real women can aspire to! So, when I saw her in this striped, reversible suit from Guria, you know it was on my list of summer must-haves.
We love Guria Beachwear for its fit. It was created with curvaceous Brazilian women in mind, so next time you feel defeated in the fitting room, reach for one of Camila's styles and embrace your inner curvaceous mamasita! We think that confidence boost is the most important feature of any suit.
More on summer fashion
Swimsuits for moms
What to look for when buying a swimsuit
Summer fashion trends