Posted: Jun 06, 2012 9:00 AM
Tattooed mothers are just like other moms, except they are tattooed. Read on to discover why judging before you get to know one of us may keep you from a future best friend.
If you're not a tattooed mom, it's possible you have some preconceived notions about them. Are tattooed mamas friendly at all? Do they have an attitude? Are they trashy? Are they good parents? Or are they simply extra cool? The truth is, we're moms just like you.
We're just moms
Tattooed moms have home births and hospital births, some breastfeed and others bottle-feed, some circumcise and others don't, some wear their babies and others love their strollers, some co-sleep while some use cribs and some employ baby-led weaning while others spoon-feed purées. Sounds like just about every other group of moms you know, doesn't it?
Tattooed mamas are no different from anyone else except the simple fact that they are adorned with permanent ink. It's often a matter of personal expression, as Meagan, mom of one, told us. "I'm tattooed simply because I love tattoos," she explained. "I've been drawn to art my whole life and it was a natural progression for me from art school."
Being judged
Shyness or social awkwardness can also bring people to believe that a tattooed mom is unfriendly. Not all tattooed people are outgoing and gregarious, but some definitely are, while others are quiet and introverted. Often, a mother can feel judged because of the way she looks and tattoos are no exception.
Judgment can come from family members, school or medical staff, or the public at large. Tattoos are also often perceived as an open invitation to question, touch or inspect the tattooed individual as well, which can lead to social discomfort and can be invasive and annoying.
Tara, mother of one, has had the displeasure of being judged by other parents. "I definitely feel judged from time to time, especially at playgrounds populated with conservative stay-at-home moms," she shared. "I have had many an occasion of being looked up and down -- and also have been downright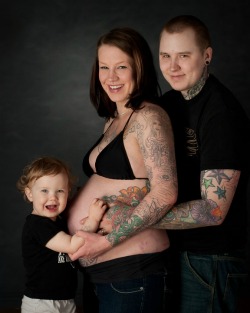 scolded by a parent because of a playground incident. Every single time, it turned out that their child had instigated mine into hitting."
Make a friend
Put aside your preconceived notions about mothers with tattoos and open your mind and heart when you get the opportunity to befriend a colorful mom. You may wind up with a new best friend.
Top-right photo credit Alissa Brunelli
More on moms
Are mom tattoos trashy or cool?
Gifts for the tattooed mom
Hilarious mom confessions from real moms... What's yours?