Posted: Jun 07, 2012 6:00 AM
Tori Spelling recently caused a stir when she was spotted in her itty-bitty monokini -- baby bump and all! That got us thinking: Did your swimsuit style shift when you became a mom?
We asked real moms to tell us what they thought of Tori's slinky swimsuit and hand-picked some poolside looks for every mom. Also asking the question: Do you still rock your string bikini, or has motherhood made you more conservative?
Teeny bikini mom: You're sexy and you know it
Your motto: If you've got it, flaunt it. You love the way you look in a two-piece and you won't compromise your personal style just because you're a mom.
Theresa Hissong Seid, now pregnant with her second baby, says, "I've worked hard to stay in shape this time and I'm comfortable in my itty-bitty bikini." Her take on Tori? Seid says, "If you can pull it off, then do it!"
Nichole Beaudry, mom to two young children, says, "I love seeing women who are comfortable with their body. Go with your bad self, Tori!"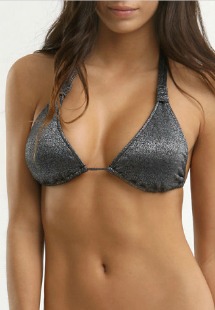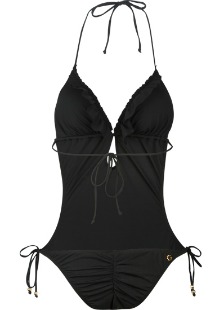 If you're not afraid to show the world you've still got it, check out the metallic bikinis that celebrity moms like Jessica Alba are wearing -- like this triangle top from Kirra (PacSun, $15). Or, go with this slightly-more-modest but still very sexy monokini by Guess (Tilly's, $75).
Tankini mom: Stylish with a little more substance
You're all for fun and flirty, but you like to leave a little to the imagination.
Robin Laatz, a work-at-home mom with a baby on the way, says that Tori's suit just isn't for her. However, she'd still probably "stare at her with envy" if Tori walked by her on the beach looking that great in a swimsuit while she's pregnant.
Southern California mom, Raluca State, says of Tori's suit, "Not cute. Flaunt it, fine. But do it in a tasteful way."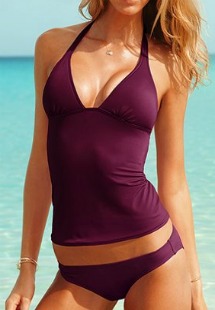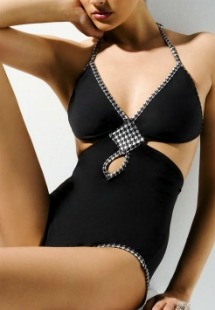 This Forever Sexy™ push-up halter in black orchid (Victoria's Secret, $36) is not your mom's tankini. This still-sexy swimsuit showcases your curves without letting it all hang out. Or, try this classic high-waisted Aqua Di Lara maillot-style suit with a peek-a-boo keyhole (Swimwear World, $128).
One-piece mom: Keep it modest
Has motherhood made you think twice about the Spelling-style skimpy suits and opt for something with more coverage?
Mom Kimberley Boyce-Hancock says Tori's suit, "Looks more like boudoir attire and should stay there. She should choose a more modest suit, especially around her children."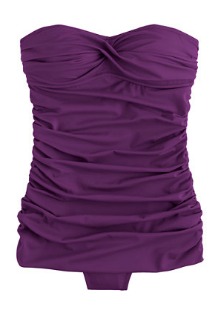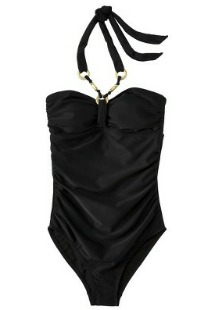 For modest moms, try this vintage-inspired Skirted Twist Bandeau Tank (J.Crew, $118). Or, this sophisticated black bandeau one-piece by Merona (Target, $29) that will keep you covered without breaking the bank!
More on swimsuits
Swimsuits for moms
Best swimsuits for your body
What to look for when buying a swimsuit