Posted: Jun 14, 2012 12:00 AM
While you'll find a variety of adorable bikinis for girls of all ages, at what age is it actually appropriate for a girl to wear one? The answer varies greatly, depending on who you ask.
Many moms will say that you shouldn't create body issues for your daughter, so you should allow them to wear a two-piece bathing suit with pride. However, on the other side of the fence, some mothers don't think bikinis are appropriate for little girls at all. They feel bikinis are too revealing and convey the wrong message. We talked to a variety of real moms to get their take on two-piece swimsuits for girls.
Not now, not ever
"Bikinis are never appropriate for girls," says Jasmine Yardeth, Phoenix mother of three. "We have to instill some sense of modesty in our children. I don't think it's appropriate for a girl to show that much skin, whether she's 3 or 13. When she's over 18, she can make her own decisions. And I'd hope even then, my daughter would pick a one-piece."
Maybe baby
Some mothers we talked to believe that bikinis are cute for babies, but shouldn't be worn by teens. "I have mixed feelings about this," says Darlene McMichaels, Texas mother of twin girls. "I have no problem with babies, toddlers and young girls in two-piece suits. Then when girls hit the tween and teen years, I think it's more appropriate to switch to a more conservative tankini or a one-piece."
Bikini: no, tankini: yes
Many moms love the convenience of a two-piece swimsuit for little ones, but don't want their daughters to wear bikinis. "Living in Southern California, near the beach, my kids are in bathing suits all summer long," explains allParenting and SheKnows Parenting editor Laura Willard. "We buy several for my kids each year. I'm not comfortable with two-piece, bikini-style bathing suits for my daughter, who is 3 years old now. I have absolutely no judgment on other moms who take the baby bikini route because it's a personal preference, but for our family, it's always been a no go. I prefer the long tankini top because it makes for quick-and-easy potty breaks, as you get with a two-piece, but with the coverage of a one-piece."
Two-piece, no problem
Some moms see absolutely no issue with their young daughters wearing a bikini at the beach or pool. "My daughter is five and I'm not going to already start causing her body image issues by forcing her to cover up all the time," says Philadelphia mom Tracie Schneider. "We go shopping for bathing suits together. If she wants a bikini, she gets a bikini. If she wants a one-piece, she can have that too. I don't see any problem with girls of any age wearing a bikini, as long as it fits properly."
Adorable summer swimwear
Whether you are looking for a one-piece or a two-piece swimsuit for your daughter, you can find a wide variety of swimwear available at Old Navy for girls of all ages. Here are some of our favorites.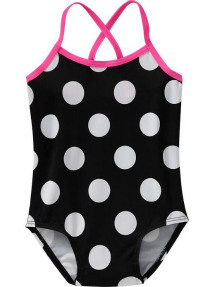 One-piece for babies/toddlers
Pretty polka dots -- This cross-back polka-dot swimsuit for babies and toddlers is available in three colors. And it's on sale right now at Old Navy for just $8 in sizes from 12 months to 5T.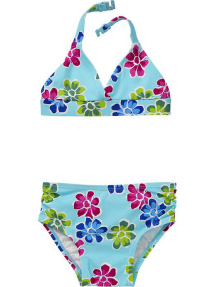 Two-piece for babies/toddlers
Flower power -- This adorable floral two-piece swimsuit features a fun pattern and cute shape. Priced at under $15, this floral-print triangle bikini is available in sizes from 12 months to 2T.

One-piece for little girls
All ruffled up -- Ruffled swimwear is trendy right now for women and for little girls too. This girls floral ruffle-trim swimsuit features a bold pink floral print and tiered ruffle neckline. Priced under $17, this one-piece swimsuit comes in girls' sizes XS through XXL.

Two-piece for little girls
Hello Kitty® -- This patriotic swimsuit features a flag motif highlighted by a little Hello Kitty® graphic. The boy-short bottoms offer plenty of comfort and coverage for your little girl. Available in girls' sizes XS through XXL, the Hello Kitty® flag-print bikini is priced right at just under $20.

One-piece for tweens
Marvelous metallics -- The one-piece swimsuit features a trendy one-shoulder design and an allover metallic print that your tween girl will love. You can get this ruffled one-shoulder metallic-print swimsuit now at Old Navy for under $17 in sizes XS through XXL. Check out their size chart at OldNavy.com, but generally these sizes correspond to girls' sizes from 5-16.

Two-piece for tweens
Wild child -- Animal prints are all the rage in fashion right now, even in girls' swimwear. This animal-print ruffled tankini is ideal for your tween who wants the comfort of a two-piece suit without the exposure of a bikini. Available in sizes XS through XXL, this two-piece suit is price at only $17.
More about summer fashion
Swimsuits for moms
Summer fashion trends
Best swimsuits for your body