Posted: Jun 14, 2012 12:00 AM
Many swimsuits now boast a sun-protective rating. We asked the experts whether or not SPF and UPF swimwear offers real protection from harmful ultraviolet rays. Keep reading as we decide: Help or just hype?
Sun exposure is the leading cause of skin cancer. It damages and ages our skin. Minimizing overall sun exposure has become part of our everyday lives. In addition to wearing sunscreen, sunglasses and hats, we can fight the effects of ultraviolet rays by wearing sunscreen clothing for an extra level of protection.
What is sun-protective clothing?
Sun-protective clothing is made of tightly knit fabrics designed to shield the skin from ultraviolet rays. Most sun-protective fabrics are derived from synthetic materials such as polyester and nylon, according to the American Academy of Dermatology.
Sunscreen clothing for water sports and swimming fits snugly so that the clothing does not weigh you down when it gets wet. For other activities, sun-protective clothing is more loose-fitting.
Until recently, sun-protective fabrics were rated with SPF (Sun Protection Factor) or UPF (Ultraviolet Protection Factor) ratings, depending on the type of testing performed on them. Now, most manufacturers use the UPF rating alone.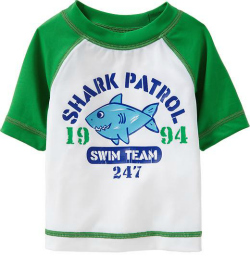 The Animal-Graphic Rashguards for Baby Swim Top -- with an adorable shark on the front! -- has UPF 35. The top will protect those areas of the baby's skin that it covers. A good investment at just $9, OldNavy.com!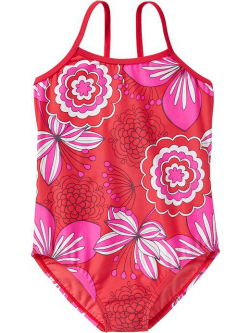 The Girls Printed Swimsuit in Red Aloud boasts a UPF 50 rating. Add that to the adorable floral print, spaghetti straps and just under $17 price tag -- what more could you ask for? Shop OldNavy.com.
Understanding the ratings
The UPF rating is an indicator of how much of the sun's UV radiation is absorbed by the fabric (not by your skin). There are three categories for sun-protective clothing:
UPF 15 to 24: good UV protection
UPF 25 to 39: very good UV protection
UPF 40 to 50: excellent UV protection
Some fabrics boast a UPF 50+ rating, which may or may not provide greater protection. Clothing with a UPF of less than 15 should not be labeled as "sun-protective" or "UV-protective," says the Federal Trade Commission.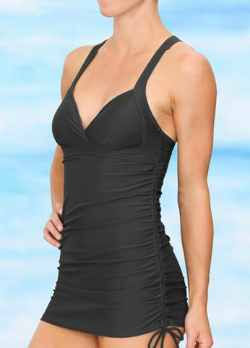 The Siren Bra Cup One-Piece Swim Dress provides spectacular style with UPF 50+. Shop Athleta.com to see the wide array of sizes and colors ($89).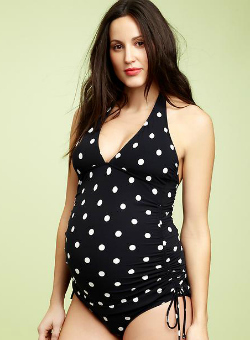 The Maternity Polka Dot Tankini will keep your precious baby-to-be under SPF 50 coverage. The adorable halter-style two-piece gives you that piece of mind (for just under $45) at Gap.com.
Proceed with caution
Sun-protective clothing is intended to enhance, not replace, your efforts to safeguard your family from the sun. These fabrics may lose their UPF effectiveness if they're too tight or stretched out, damp or wet, or worn and washed repeatedly. Continue to use sunscreen (apply liberally and often) and avoid the dangerous sun hours of 10 a.m. to 4 p.m.
More swimwear fashion tips
Best swimsuits for your body
Swimsuits for moms
What to look for when buying a swimsuit