Posted: Jun 29, 2012 5:00 AM
Saks Fifth Avenue isn't the only place to find high end fashion. Simply by spending some quality time in your local thrift stores, not only can you find some incredible deals on designer clothes, but you'll also discover some amazing hidden gems in vintage and unique items that not everyone else will have.
I am the first to admit (and okay... brag) when I get a compliment on an outfit that I bought at a thrift store, I blurt it out... "I got it at a thrift store!!!"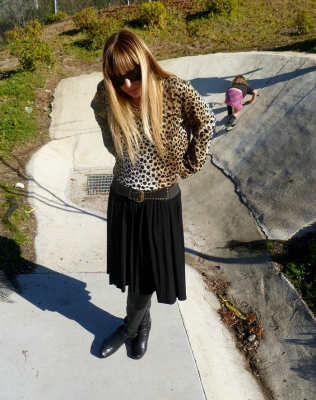 I don't wait to be asked. I don't even think that maybe some people may not be as much in awe as they are disgusted. Instead, I am just thrilled to the bone (that is a term, right?) that I have something worthy of compliments that cost me, literally, less than $7.
My thrifting ways go way back to my elementary school days when I would tag along with my dad to find vintage treasures, which often included ships' wheels and other nautical items he just had to collect. And while he searched for what pleased his heart, I set out to find what pleased mine...
Clothes, shoes, purses... (Some things always remain the same!)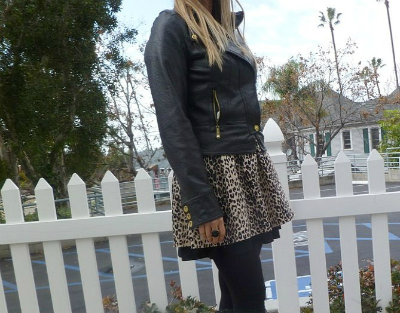 The talent (as I like to think of it) continued on through my junior high Seattle grunge phase (when I scored a surplus of old ripped Levis!), into high school -- and now as a full grown adult mommy you will still find me with a smile plastered across my face while I pile high the shopping carts I keep close. And yes, you read that right. I said carts (plural).
I take my thrifting seriously.
And because I think finding adorable unique clothes is an art, I am always excited to share my tips with anyone who wants to hear.
I'm kind of hoping that's you...
Call ahead. I have my fave thrift stores on speed dial, and often I'll call on Monday mornings to find out what their sales are that week -- and then plan my shopping days accordingly.
I always wear leggings, socks, boots and a tank top when thrift shopping so that I can easily layer on clothes on the chance there isn't a dressing room. (Also, sometimes I'd rather not have the clothes touch my skin, so a tank and leggings are the perfect buffer.)
When it comes to shopping for clothes, know it takes patience and time. You do have to dig and sort and go through a lot of who would ever wear that? in order to find the ones you actually would. But, oh that feeling you experience when you finally score, is so worth the work!
If you're into the whole DIY trend, look for the possibilities. Maybe you'll see a cute sweatshirt that has potential to be cut and transformed into an off the shoulder top. Use your imagination. Add a belt, imagine things with accessories and when all else fails, try it on!
Don't limit yourself to just the clothes! I have found some fabulous shoes/boots (use Lysol, lots of it, when you get home!), purses, belts and even incredible vintage jewelry.
Got kids? This is another one of my secrets. About 50 percent of my daughters' clothes and every single pair of shorts my son has ever owned came from a thrift store. With the way they grow and thrash stuff, it's nice to know you didn't spend an arm and a leg on what they're wearing. And trust me, you can find some adorable and absolutely stylish stuff. Not everything has Transformers and Care Bears on it. Once I found a Burberry dress for my 3-year-old for $1. I almost died.
Also, remember to stop by the home decor/furniture section before you head out. You will be amazed at the deals they have. And again, use your imagination! An unassuming brown credenza could easily transform into something stylish and chic with a simple switch of hardware and a coat of paint. My most complimented pieces in my home are DIY'ed furniture from the good ol' Salvation Army.
And as cheesy as it sounds, just go and have fun! Bring a friend. Try on some horribly awful outfits, take pictures and laugh.
What not to buy!
Thrifting is just as much about the experience as it is about scoring some good deals.
Other must-have budget tips
Best drugstore makeup for moms
Eat real foods on a budget
Wear one piece many ways