Posted: Jul 05, 2012 7:00 AM
Celebrity mom Jessica Alba was spotted in this season's hottest summer trends, wearing a chic summer blazer paired with neon wedges and Wayfarer sunglasses. In fact, if you have been unsure how to wear this season's styles, Alba's look is totally wearable and fun. We have rounded up similar items so you can steal Alba's cool street style on a budget.
Jessica Alba's style staples
Alba is a hands-on mom who is often spotted taking her two daughters (3-year-old Honor and 7-month-old Haven) to the park or to birthday parties -- and always looking stylish doing it! Although the Spy Kids 4 actress often wears gorgeous frocks on the red carpet, her casual look is characterized by cropped or colored denim, chic blazers and knotted scarves around her neck. She does a great job of mixing current trends with fashion basics.
"There are some women who dress for men. I dress for myself," said Alba, who recently started The Honest Company, which has natural and eco-friendly baby products. "It took me some time to get here. Being a mom and feeling grown-up have helped. Now if I'm going to wear something short, it has to have a high neck or a little sci-fi toughness to it, an edge."
Recreate the look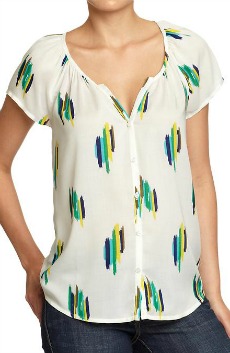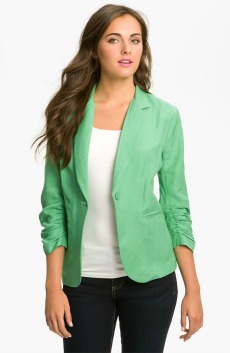 Alba loves to layer blazers over printed blouses, and this green blazer is the perfect weight for summer. This flowy printed button-front top from Old Navy ($27) would look fabulous paired with the Olivia Moon linen blend blazer (Nordstrom, $84) in mint green. This lightweight blazer, which is also available in navy blue, has elastic ruching on the sleeves so they maintain the chic pushed-up look.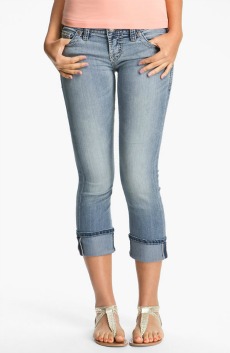 Cropped and cuffed jeans are the hottest denim trend this summer. Copy Alba's look with the Silver Jeans Santorini crop jean stretch denim ($75) from Nordstrom. These super-cute stretch-denim jeans are styled with a cuffed, cropped length and feature signature S embroidery on the back pockets.
The cropped jeans are perfect for showing off her neon wedges! The '80s trend of wearing pops of neon is huge this summer, and wearing it on your shoes is the perfect way to add it to your wardrobe.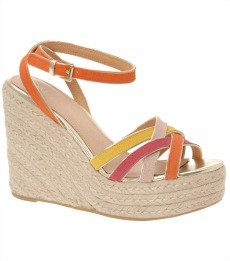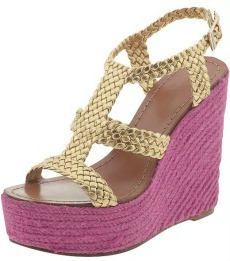 The Aldo Bennick wedges ($39) have the braided rope heel for height and add a pop of color with the neon orange, yellow and tan crisscrossed straps. These Kate Spade New York Lila wedges ($139, Piperlime) are drool-worthy, with the gold metallic straps and lipstick pink rope wedge heel. Don't worry about all your colors matching. In fact, the trend is to have your pop of neon color to contrast with the rest of the colors in your outfit.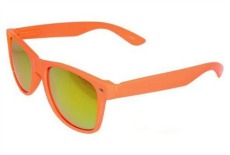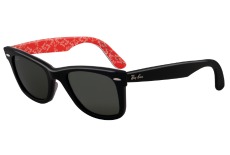 Alba finished off her look with these ultra-chic neon orange Wayfarer sunglasses with iridescent lenses. These orange Wayfarer style shades from Buy.com are only $11 -- which means you can embrace this trend on a budget! If you want to make more of an investment, the Ray-Ban Wayfarers ($150) are black with this chic orange print which makes them totally wearable.
More celebrity mom reads
Celebrity mom style steals: Brooke Burke
Tori Spelling throws a princess tea party for Stella: Get all the details!
Celebrity mom crush: Reese Witherspoon