Posted: Jul 05, 2012 10:00 AM
From the moment you become a mother to a little girl, the desire to dress alike can make you wonder if you've lost your marbles. But, with fashion this cool, even your teen won't mind dressing in mommy and me clothes.
From matching pillowcase dresses and tops to identical accessories and jewelry, these harmonizing looks from Etsy sellers will have you running for your wallet.
A Piece Of My Heart - Mixed Sterling Silver & Copper Mother Daughter Necklace by JessicaMaiaDesigns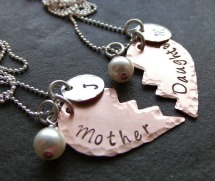 Perfect for when your little girl gets into that stage where everything you do embarrasses her, this trendy heart necklace makes coordinating mother-daughter fashion subtle and easy, especially with teens. Can be customized with crystals or pearls and choice of words.
Mommy and Me Matching Pillowcase Dress and Tube Top from PlanetPlayground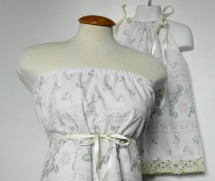 The best mommy and me fashions are the ones you'd wear anyway, which makes this matching pillowcase dress and tube top combo a cute choice for matching your mini me. Both are fashioned from vintage sheeting and skirted by lace for an angelic look.
The Josephine Mini Fascinator Matching Mommy & Me Hair Set at ProjectK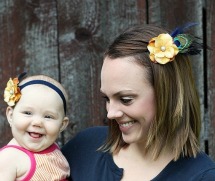 You and your daughter will look cute as a button when you hit the town adorned with matching hair accessories. These coordinating hair flowers can be worn in your hair or as a broach, thanks to a combo accessory attachment, and your little lady's headband is made to size.
Mommy and me retro apron set from DebzDoodlez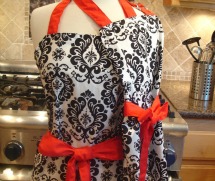 Mother-daughter fashion is adorable anywhere, including the kitchen with these matching retro-style aprons for you and your baker-in-training. These coordinating aprons can be fashioned out of many fabric options, which make it easy to wear with your daughter, regardless of her age.
Brittany mommy skirt & Liddy daughter dress by TwirlyThreads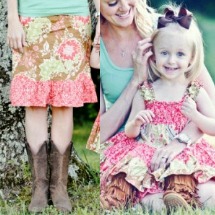 Whether you're dressing up for family pictures or just can't resist matching your little princess, these coordinating skirts and dresses can be custom made to the fabric selection or color scheme of your liking. Just be sure to hit up the seller's Facebook page first for money-saving coupon codes!
When choosing mommy and me clothes, accessories and jewelry, keep your daughter's age in mind; you'll find that teens are less resistant to subtle coordinating versus blatant matching. But, before you know it, she'll be matching less and browsing your closet more, so embrace these five swoon-worthy mother-daughter fashions on Etsy.com while you can!
Pick up more fashion tips
Summer maxi dress trend
Swimsuits for moms
What to wear to a summer party