Posted: Jul 17, 2012 11:00 AM
The last thing a tired mom wants to do at the end of a long and hot day is spend time caring for her own skin. We offer five easy ways to boost your skin care routine and save your skin in no time flat.
Hydrate your skin with food
Rumor has it that drinking lots of water can help your skin, but that's a myth. We're not saying to ditch your eight-glass-a-day goal because water is good for you in so many ways -- but it won't necessarily help improve your skin. However, there are certain foods rich in essential fatty acids that can hydrate skin cells. If your skin is looking a bit dull, liven it up by eating walnuts, flaxseeds, salmon and olive oil.
Moisturize and protect your skin
Use a SPF lotion daily, such as Purpose Dual Treatment Moisture Lotion with SPF 15 ($10 at Purposeskincare.com), even if you don't plan on soaking up the rays at the beach. At night, after you've removed your makeup and cleansed your face, moisturize again with a night cream, such as Olay Age-Defying Anti-Wrinkle Night Cream ($15 at Olay.com) that hydrates while reducing wrinkles and fine lines.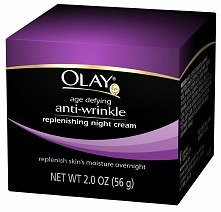 Don't sleep with your makeup on
Removing your makeup at the end of the day can seem like a tedious task, especially when you're super tired, but you've got to get in the habit of it for the sake of your skin. Sleeping with makeup on blocks your pores' ability to secrete sebum, a natural waxy lubricant that moisturizes, removes dead skin cells and protects the skin.
If your pores are blocked with makeup, the sebum can't do its duty and you'll end up with pimples. The horror! So even if baby has worn you completely out, make that extra effort to cleanse your skin before flopping into bed for the night (or a few precious hours).
Exfoliate
Exfoliating your skin gets rid of the surface layer of dead skin cells that prevent products like lotions from absorbing properly. It also leaves skin smooth and silky. Use a gentle facial exfoliating mask like Fresh Sugar Face Polish ($55 at Sephora.com) to revive dull skin.
Don't stress
Stress can affect your skin in many ways from rashes and acne to hives and eczema. According to WebMD, "Stress causes a chemical reaction in your body that makes skin more sensitive and reactive." So how can busy new moms limit stress in their lives? The site suggests getting an optimal 8 hours of sleep every night, exercising regularly and taking a little me time each day.
More on skin care
Clean your face with oil
Smart skin care for every age

Beauty products that every busy mom needs