Posted: Jul 17, 2012 7:00 AM
Celebrity mom Nicole Richie looks flirty and fresh in this mustard yellow dress at the Environmental Media Association event. We found Richie's exact same dress, as well as style replicas, so you can copy her look that would be perfect for an upcoming summer bash.
Nicole Richie's style
Whether she is taking her two kids, 2-year-old son Sparrow and 4-year-old daughter Harlow Winter Kate, to the beach or is walking the red carpet in a designer gown, Nicole Richie always looks trendy and cool. In fact, her bohemian style, which often includes flowing dresses and her signature headpiece jewelry, was so popular that she put her love of fashion to work -- designing a jewelry line called House of Harlow 1960 and a women's line called Winter Kate.
The Fashion Star mentor recently told Elle UK that she doesn't follow any rules when it comes to fashion.
"I take my cue from the 1960s and 1970s, when there were no rules -- you could mix any fabrics, colors or prints," she said.
In fact, Richie confessed she never plans her outfits ahead of time and instead prefers to dress according to her emotions. "What I wear depends on my mood. I don't plan outfits -- I'm an emotional dresser," she said. "If I'm not confident in what I'm wearing then you can see it all over my face."
Recreate the look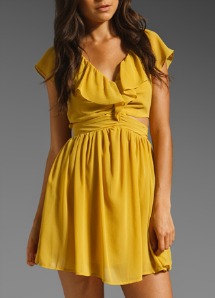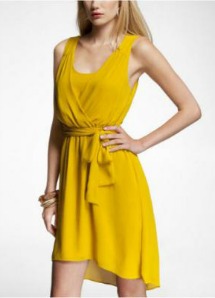 Richie looked amazing in this flirty dress at a recent event in Los Angeles. The yellow tones of the dress looked amazing next to her olive skin and buttery blond hair. Richie is wearing the Keepsake Lost Without You dress in mustard yellow ($149). This dress has a baby doll skirt, with sexy side cut outs and a chic ruffled V-neck in a polyester chiffon fabric.
For a similar look at a more budget-friendly price, check out the knot back wrap top tank dress from Express ($56). This dress is in the same trendy mustard yellow color and has the same soft, flowing look as Nicole's dress. It features a flattering knot detail at the waist and a trendy high-low hemline.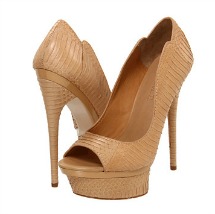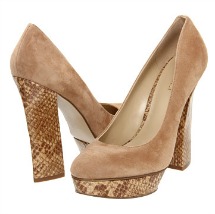 Nicole wears tan heels for a leg-lengthening look that complements the yellow dress perfectly. For those who are shoe obsessed, you will die over the L.A.M.B. snake-embossed leather platform heels ($325). For a more budget-friendly option, the Nine West Speedup heels ($89) in natural suede are a great option.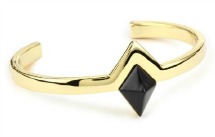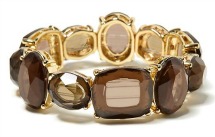 Richie gives her look an edge by wearing eye-catching statement bracelets on both wrists. Copy her look with this House of Harlow 1960 gold-plated black triangle cuff bracelet ($70) and the faceted stone stretch bracelet by Banana Republic ($30).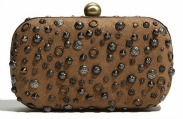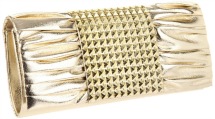 Richie finishes off her look with the House of Harlow 1960 Tilda clutch ($229) which includes metallic leather and antiqued brass studding. For a more budget friendly option, the La Diva studded clutch is just as chic for only $48.
Nicole Richie photo courtesy of WENN
Check out more celebrity mom style steals
Steal her style: Bethenny Frankel's embroidered black swimsuit
Steal her style: Jessica Alba's colorful summer style
Steal her style: Gwen Stefani's cool printed tee