Posted: Jul 19, 2012 10:00 AM
The French didn't coin the term "je ne sais quoi" for nothing. Long before they were telling us how to lose weight and feed our kids, they were showing us how to dress. Here are some key fashion trends to borrow from our fabulous French friends that will have you singing "je ne regrette rien" in no time.
Stripes
The French have embraced sailor-striped shirts (la marinière) for the young and old for eternity, and with good reason. A chic, simple striped shirt (long-sleeved, short-sleeved, loose or fitted, collar or not) is a wardrobe staple that fits any modern mama's closet to a T. And do not be afraid of the horizontal stripe! Layer it up with a blazer or cardigan to minimize any widening effects.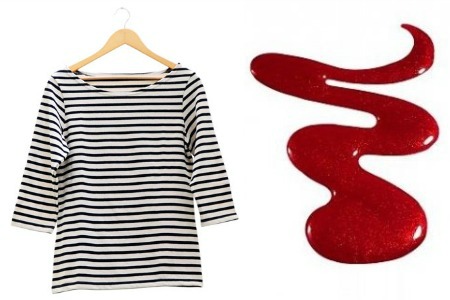 Natural
You know the latest neon nail polish, purple eye shadows and teal mascara? They may as well only be sold in the U.S. because the French woman prefers a natural approach to makeup: a clean complexion, eyes defined with black liner and mascara, a simple manicure and maybe a red lip -- if she's feeling bold. It's a look that never goes out of season.
Statement pieces
French women don't worry about dressing head-to-toe in designer anything but they do know when to invest their money, and where: one life-changing blazer, the perfect classic handbag, a pair of heels that will amp up any outfit. They look for quality pieces that can dress up a classic T-shirt and jeans, as easily as a cocktail dress, and build their wardrobe around those invaluable fashion finds.
Black
French women wear black like American women wear jeans -- any day of the week, any time of day, any occasion. It's classic, goes well with anything and is flattering on any body type and complexion. And they tend to pair it with other neutrals: white, gray, even navy all play nicely with ebony and act as a uniform of sorts that can take you from day to night in style.
Scarves
French women know the power of a good accessory, and a scarf seems to be at the top of le list, any time of year. Invest in many options, both lightweight and warm and fuzzy, and either loop casually around your neck several times for a chunky look or wear it long and loose for a more bohemian approach.
Confidence
Finally, French women define the word chic because of one absolute must-have: confidence. They take good care of themselves (even cheese and wine can be good, in moderation), lead active, busy lives (often on foot) and sport a je ne care pas attitude when it comes to other people's opinions. They throw their head back, slap on a smile and work their look, no matter what it is, without a second thought. As long as it's in black, of course.
Related articles
5 Must-have summer pieces
Be your own personal stylist
Plan a day of shopping with your girlfriends