Posted: Aug 28, 2012 7:00 AM
Most chip-resistant polishes don't last a day in my house, but I think I've found one that can stand the test.
Moms have a way of putting manicures to the test, and it seems to never fail that the moment I paint my fingernails, my chore list skyrockets. All of a sudden I'm scrubbing baseboards, washing eight sink-fulls of dishes, scratching at soap scum... the glamorous life of a mom leads to some very unglamorous nails, that's for sure. That is, until I discovered Dermelect ME polishes.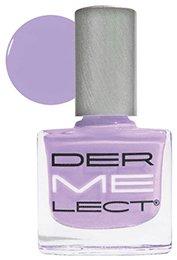 These polishes are formulated and designed with a pure protein peptide extracted from New Zealand sheep's wool -- if that doesn't sound like an infomercial teaser, I don't know what does! But the truth is, while you don't get a two-for-one limited time offer, you do get up to twice the normal life of a manicure. At least that was my experience. I polished my nails, went about daily life, and was still chip-free four days later. That's quite the accomplishment!
The first coat of polish instantly bonds to your nail, while the second fuses with the base coat to create a flexible web of color that resists chipping and improves brittleness. They're water and detergent-resistant, protect against UV rays, and are free of all those nasties (toxic ingredients) like DBP, toluene and formaldehyde.
More beauty tips
Why you owe yourself a pedicure
The new black: A Salon blowout
Nailing it