Posted: Aug 21, 2012 10:00 AM
Supermodel mom Miranda Kerr has the perfect travel look down. Whether you are traveling cross country with the kids -- or just going from school drop-off to a meeting, we have gathered up similar items so you can copy Miranda's cool celebrity mom style.
Miranda Kerr's style
Yes, she is known for wearing skimpy swimsuits and lingerie for Victoria's Secret, however Miranda Kerr looks just as amazing when she is fully dressed. Kerr, who has a 1-1/2-year-old son named Flynn with Orlando Bloom, is often spotted showing off her chic street style that mixes basic looks with trendy must-haves.
Kerr describes her style as "classic, chic and comfortable" and recently told Harper's Bazaar that having a good sense of style is all about how you put things together. "For me it's all about keeping things simple and feeling comfortable in what I am wearing. I prefer investing in classic well-tailored pieces," she said.
Recreate the look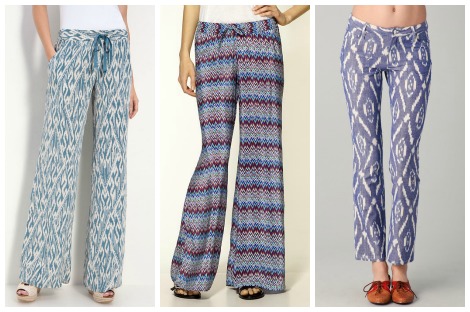 Kerr's Joie 'Aryn' Ikat Silk Wide Leg Pants ($180, Nordstrom) are the star of her outfit because not only are they totally chic, but they are comfortable to boot! Because these pants are so droolworthy, Nordstrom has a hard time keeping them in stock. We found these Silk Guacho Pants by Tolani ($90, Piperlime) that have a similar look and cool blue zigzag print to give you a similar look. If it is the Ikat print you are obsessed over, a great alternative is the Harvey Faircloth Ikat Straight Leg Pants ($100, Shopbop).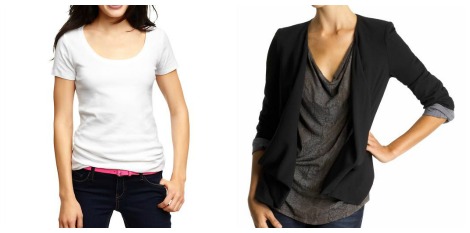 Kerr wears a basic scoop neck white T-shirt, such as the Essential Scoopneck T in optic white ($15, Gap) partially tucked into her pants. She layers a black blazer, such as the Oona Blazer by Boundary & Co. ($70, Piperlime) to give her a polished look. Blazers are a great way to transition your clothes from summer to fall.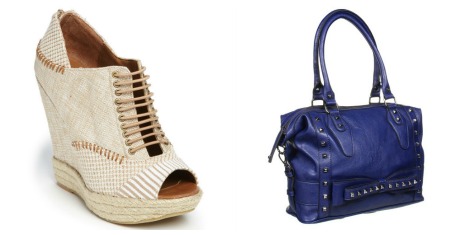 Kerr lets her pants steal the show, wearing natural peep toe heels, similar to these Chinese Laundry 'Make My Day' Sandals ($80, Nordstrom). These natural colored sandals are anything but ordinary with their cool elastic lacing and espadrille sole. She is carrying the amazing Yves Saint Laurent Cabas ChYc Tote which is priced around $1990. You can copy her look on a budget with the Jessica Simpson Avril Satchel in sapphire ($108, Zappos). This bag has a leather look and feel with O-ring accents and decorative hardware to give it the perfect mix of sophistication and edge.
Lastly, this busy mom says the key to looking and feeling good is spending quality time with the people you love. "When I'm with Flynn, my phone is switched off and I stay away from my lap top. It means the time I do spend with him is quality time," she says.
Miranda Kerr photo credit: WENN
More celebrity mom style
Celeb mom style steals: Ashlee Simpson's printed shorts
Celeb mom style steals: Gwyneth Paltrow's chic tan booties
Celeb mom style steals: Nicole Richie's must-have dress