Posted: Aug 28, 2012 9:00 AM
Celebrity mom Kate Hudson is famous for her effortless, bohemian style, however this girl-next-door can also stun us with her designer gowns on the red carpet. We have rounded up similar items from a recent casually chic ensemble so you can copy her bohemian celebrity mom style on a budget!
Kate Hudson's style
Kate Hudson is the type of person that looks stylish without even trying -- and I have to admit I hate her a little bit for it. "Kate Moss and I have one thing in common. I think we are both the kind of people who wear what's on the floor," she told the Daily Mail back in 2006. "We just hop out of bed, put on a bunch of stuff, leave the house and don't think about it. I guess that's considered boho."
Since then, Hudson, who has two boys (Bingham, 1, and Ryder, 8), is the face of Ann Taylor's fall ad campaign and tells the Washington Times about her evolving style. "I definitely have more of an easy style," Hudson says. "I hate the word bohemian, but it sort of is."
Whether you call it easy or bohemian, we call it pretty fabulous. Find out how to copy Hudson's celebrity mom style.
Recreate the look
We recently spotted the actress out with her son Ryder looking casually chic in a white oxford top paired with khaki pants, tan wedges -- and a fringed bag, of course.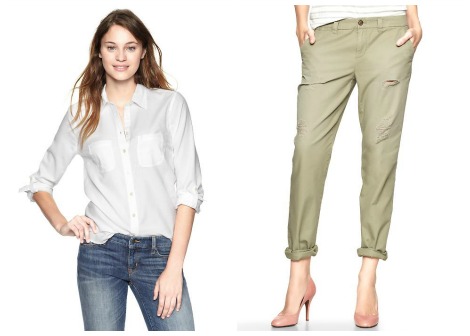 What I love about Hudson's style is that she starts with the basics and gives it an extra flair with eye catching accessories, such as her chunky bracelet or fringed bag. To recreate her look, start with a basic button-front white top, similar to the Fitted Boyfriend Weekend Shirt ($50, Gap). The style of this top allows you to leave it untucked without it looking sloppy. Pair your top with cuffed pants, like these Destructed Broken-In Straight Khakis in light olive ($50, Gap).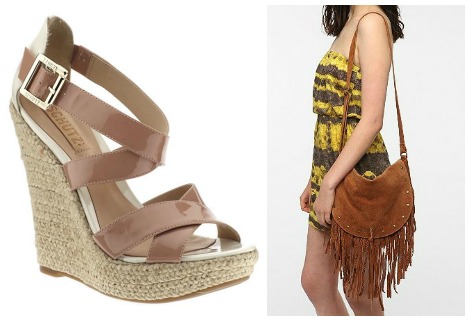 Now that you have the basic look down, it's time to accessorize! Hudson's cropped pants are perfect for showing her tan wedges. To copy her look, check out the Destiny by Schutz Tan Wedges ($77, Piperlime). These chic platform wedges give your look more style than flats or flip flops. Her fringed bag is a signature piece for Hudson and gives her that bohemian flair. Hudson is carrying the Ralph Lauren Suede Fringe Bag, which is no longer available in that particular style, however you can copy her look with the Ecote Suede Stud Fringe Hobo Bag ($79, Urban Outfitters).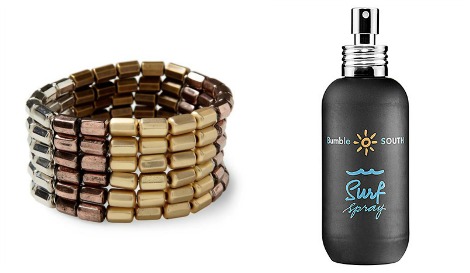 Hudson adds a little bling to her wrist, similar to this Tri Tone Beaded Stretch Band Bracelet by Hive & Honey ($12, Piperlime). Finish off your Kate Hudson look by getting her beachy waves with the Bumble and bumble Surf Spray ($24, Sephora).
Now that you have her clothes, it is time to get her attitude. "You put something on and your body kind of changes and all of a sudden it's -- oh, I'm a bit of a boho, happy chic kinda gal," Hudson says.
More celebrity mom style
Celeb mom style steals: Gwen Stefani's tribal tank
Copy Rachel Zoe's chic mom style
Celeb mom style steals: Gwyneth Paltrow