Posted: Sep 04, 2012 9:00 AM
Angelina Jolie always looks glamorous and polished -- and, let's face it, drop dead gorgeous. The mom of six looked amazing in this black leather skirt and white silk blouse, accessorized with her favorite emerald gem. Find out how to copy her celebrity mom style that is the perfect mix of sex appeal and sophistication.
Angelina Jolie's style
Angelina Jolie has moved way past her goth days -- well, save for a tattoo or 12. These days, the busy mom of six keeps her look classic and cool, often opting for black dresses or tailored pants. She recently explained that she has a very practical reason for always wearing black.
"As Brad will tell you -- and my kids, apparently -- Mommy only wears black," she recently told Vogue. "I like to get up so every pair of pants goes with every top, every dress goes with every shoe. I've a very tiny closet. Brad's always laughing at me. Some days, yes, I have the nightgown that looks like a dress that I can sleep in and pick the kids up at school. And maybe take a meeting if I switch into heels."
Jolie has a way of turning a basic black dress into a head-turning look by a sexy slit or eye-catching accessory. Want to steal her style? Find out how to copy her celebrity mom look.
Recreate the look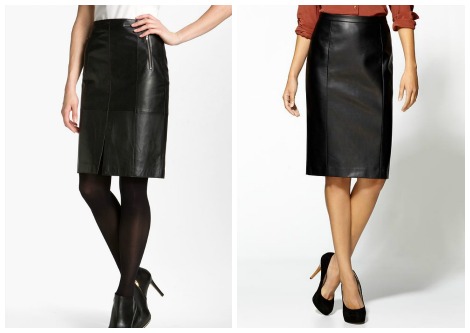 Angelina and Brad were picture perfect at the 77th Annual New York Film Critics Circle Awards earlier this year. The 36-year-old actress wore a Salvatore Ferragamo white silk blouse paired with a black leather skirt and her own gorgeous emerald jewels. Copy her look with the Halogen seamed leather pencil skirt ($228, Nordstrom). This sleek leather skirt will fit and flatter to give you that Angelina edge. Prefer something a little more PETA-friendly and wallet-friendly? Check out the vegan leather pencil skirt by Tinley Road ($79, Piperlime).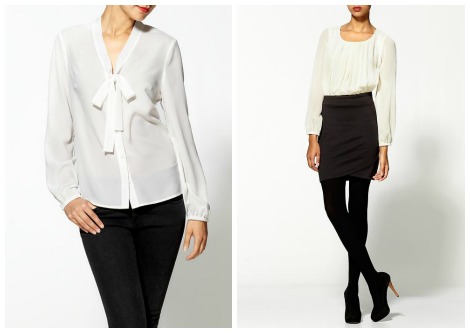 Angelina pairs her black leather skirt with a silk blouse, similar to this bow blouse by Tinley Road ($59, Piperlime). For a black and white look that is similar to Angelina's (but budget-friendly!) check out the white blouse dress ($59, Piperlime) that is a one-piece look that is a pleated blouse with a ponte fitted skirt. How easy is that?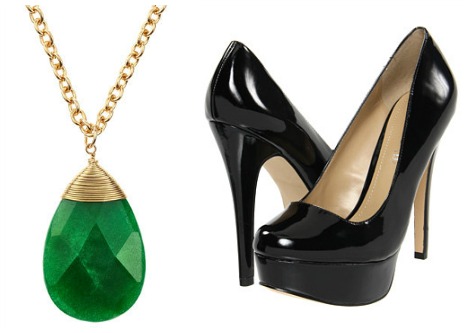 Angelina wears her trademark emerald jewelry to give her style a pop of color. Copy her look with this R.J. Graziano faceted pendant emerald necklace ($45, Last Call by Neiman Marcus). Finish off your outfit with a pair of Aldo Prue faux-leather, platform heels ($80, Zappos).
Speaking of jewelry, Jolie has her own line called Style of Jolie, but admits she doesn't wear much jewelry unless she is on the red carpet. "I like certain types of jewelry [and] I wasn't finding big chunky stones with gold. I worked with a designer, saying, 'If I had an ideal ring, it would look like this.' Or, 'I'd love a pair of earrings that look that.' But I never wear jewelry. Unless I go to a premiere," she told Vanity Fair.
More celebrity mom style
Get Miranda Kerr's chic travel look
Celeb mom style: Kate Hudson's boho outfit
Gwyneth Paltrow's trendy style