Posted: Sep 11, 2012 9:00 AM
Beautiful baby bump! Pregnant actress Tamera Mowry looked stunning in a teal bump-hugging dress at the NBC Universal Press event at the Beverly Hilton Hotel to promote her reality show,
Tia & Tamera
. Find out how to copy her chic maternity style.
Tamera Mowry's maternity style
Tamera Mowry is expecting her first child with her husband, Adam Housley, and the former Sister, Sister star is getting plenty of mom advice from her twin sister, Tia Mowry. One thing the Tia & Tamera star doesn't need advice on is her chic maternity style.
Mowry looks gorgeous showing off her pregnancy curves in bump-hugging dresses, like this gorgeous teal dress and black blazer she recently wore to the NBC Universal Press Tour. Perhaps blue is her favorite color (or she is embracing this color since she is having a boy?) as she was spotted wearing another blue and jade dress at a different event.
Now that she is in her third trimester, Mowry joked on her blog on People that she is learning to embrace her fuller figure: "I'm embracing my new body and its changes by constantly telling myself, 'Chipmunk cheeks are cute, right?' 'Right ?' Additionally, I've been reciting, 'My hubby loves a woman with curves.' Well, at least that's what he told me when we first met. So what if my behind is spreading as wide as the continent of North America?" she wrote.
We actually think she looks pretty darn terrific! She also shared a great tip for beating pregnancy bloat, saying that eating "watermelon, grapes and cucumbers helps to bring the swelling down."
Recreate her look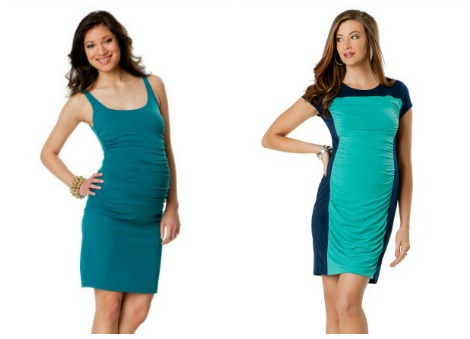 Mowry looked gorgeous showing off her baby bump in the Susana Monaco Sleeveless Shirring Detail Maternity Dress in the color cove ($175, A Pea in the Pod). This maternity dress is made of jersey knit material and features side shirring that fits and flatters as your tummy grows. For a more budget-friendly option, you will love the Short Sleeve Colorblock Maternity Dress from A Pea in the Pod that is on sale for $50. Mowry also recently wore this dress that features trendy navy and jade colorblocking to show off her curves.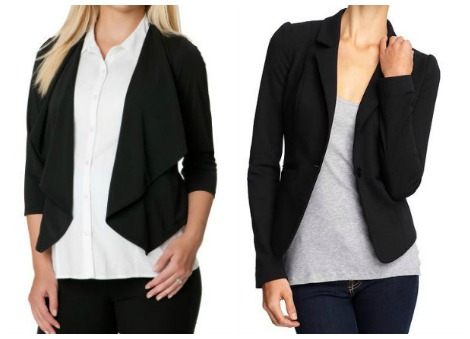 Mowry pairs her dress with a black blazer to give her a polished and sophisticated look. Copy her look with the Cascade Matte Jersey Maternity Cardigan ($25, Motherhood Maternity). You don't necessarily need a maternity blazer, however, the front will stay open to allow plenty of room for your baby bump. You will like the cut and design of the non-maternity black Bleecker Blazer from Tinley Road ($79, Piperlime). This chic blazer can be worn long after baby is born!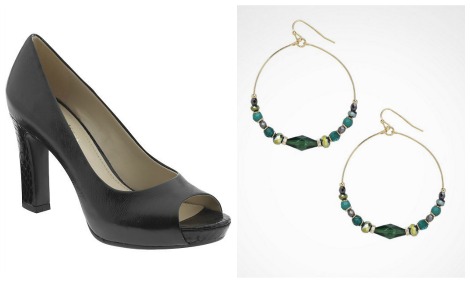 Mowry pairs her look with black strappy heels -- and pregnant moms, you will love the cushioned insole and the N5 Comfort System of the Blaine by Neutralizer heel ($95, Piperlime). The actress accessorizes her look with large beaded hoops, similar to these chic Multi Colored Stone Hoop Earrings with emerald gems ($27, Express).
Tamera Mowry photo credit: WENN
More celebrity mom style
Get Angelina Jolie's polished mom style
Celeb mom style steals: Kate Hudson's boho chic
Get Gwyneth Paltrow's chic fall look