Posted: Sep 19, 2012 8:00 AM
Even though the weather doesn't change much throughout the year in California, our days are usually warm and our evenings are always cool. As the rest of the country transitions from the hot summer to chillier temperatures, the best piece to have on hand is a good cardigan.
My personal favorite is a slouchy style, big in the arms. I can layer it over other things easily, and it doesn't make me feel too warm. Here I've paired it with a simple white T-shirt, boyfriend jeans and sparkly heels. (Pictured below.)
An easy way to stretch your summer dresses is to throw a sweater on over them. I wore a long, slim style over a light shift dress and added boots to make it more appropriate for the season.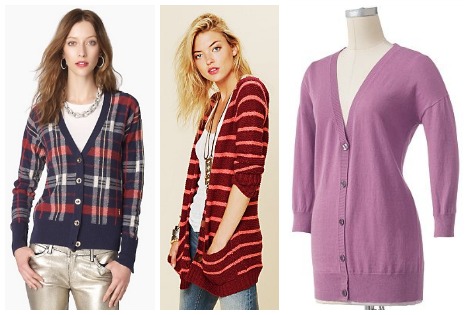 Cardigans don't have to be boring. I love this plaid number ($125) from Juicy Couture. Wear it with jeans or a super simple bottom.
Another bold option is this striped cardigan ($108) from Free People. I like the bright colors, but it's also thick and cozy.
If you're looking for something a little more basic, Kohl's has several to choose from, including this Dana Buchman boyfriend cardigan ($42). I like that it's a little bit long, but the sleeves are only 3/4-length.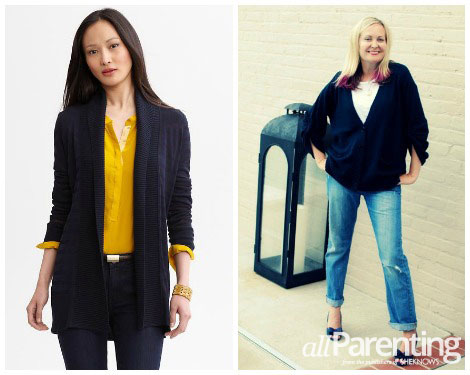 A nice hybrid of the two sweaters I'm wearing is this shawl collar cardigan ($79) from Banana Republic. It has a very subtle stripe and a long, slouchy fit.
A good cardigan can be worn year-round and in all sorts of combinations. Available in many styles, adding just one or two can lengthen the life of your wardrobe and keep you warm enough for changing weather.
More about fashion
How to make inexpensive clothes look pricier
In a mom bag rut? Hot bags for fall
Color therapy: Colors to wear to feel better