Posted: Sep 25, 2012 9:00 AM
New mom Kourtney Kardashian looked fab at the one year anniversary celebration of the Kardashian Kollection at Sears in New York City this month. Find out how to copy Kourtney's chic look that is perfect for new (and not-so-new) moms.
Kourtney Kardashian's style
Kourtney Kardashian's style is the perfect mix of trendy looks and modern basics. "I love taking fashion risks and trying new things with my style," she wrote on her website. "I am so inspired by so many different eras and chic women. I love looking at the trends of the past that inspire the trends of today. Fashion should be fun and ever evolving."
As a mom of Penelope and Mason, Kourtney knows how to find clothes that fit and flatter her new mom curves. She often wears flowing tops paired with chic leggings and wedges, printed maxi dresses or a trendy blazer paired with a boyfriend blazer for a casual, yet figure flattering look.
She recently admitted to InStyle.com that she does have one trick to make her clothes fit her perfectly. "I'm short, and I always need to alter everything and I alter a lot of what I wear," she said.
Recreate her look
Kourtney's style at the Kardashian Kollection event (the first major appearance since her daughter Penelope was born in early July) combined a trendy leopard-print, high-low skirt with a basic black tank and white blazer, which instantly gives her a slimming look -- and is also great for hiding the dreaded muffin top.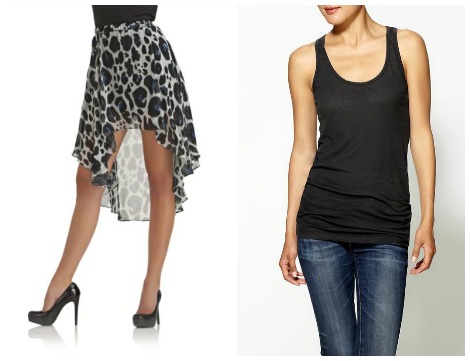 Kourtney is wearing a skirt from her own collection -- the Kardashian Kollection Blue Leopard Night High-Low Skirt, available for only $34 at Sears. She pairs her skirt with a black Racerback Tank by LNA ($46, Piperlime). (However, the skirt has pops of blue that would also look great paired with a blue tank if you are feeling colorful.)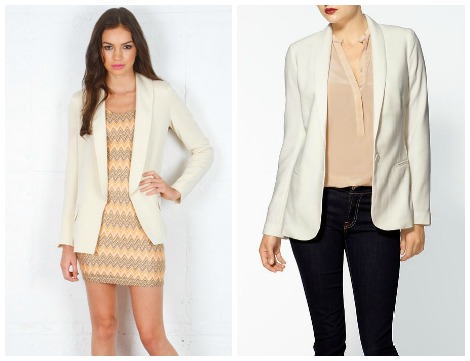 Kourtney pairs her look with her favorite Pencey Palm Blazer in Champagne ($418, Singer 22), which she has been spotted wearing with everything from jean shorts to rompers. For a similar look at a more budget-friendly price, check out The Brigid Blazer by Pim + Larkin in marshmallow ($79, Piperlime). A blazer is a must-have for new moms because it can be dressed up or dressed down, is a timeless look and is perfect for hiding any bulges you would rather conceal! Stay away from cropped blazers and make sure it falls below your waist, otherwise it will only accentuate your midsection.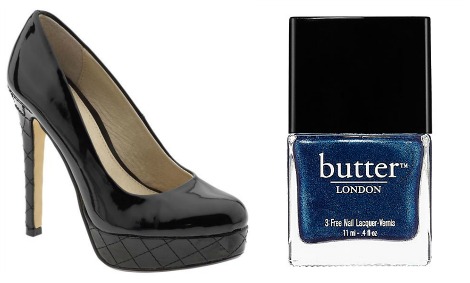 Kourtney is wearing pricey Tom Ford black heels, but you can copy her look with the Wish For Pump by Chinese Laundry ($79, Piperlime). She finishes off her look with a cool dark shade of nail polish. Check out the Butter London nail polish in Big Smoke ($14, Sephora), which is a metallic blue shade that will look great with the blue shades in the skirt.
Kourtney Kardashian photo credit: WENN
More celeb mom style
Copy Tamera Mowry's chic maternity look
Steal her style: Kate Hudson's boho chic
Celeb mom style steals: Gwyneth Paltrow