Posted: Oct 24, 2012 7:00 AM
Kate Moss was spotted walking hand-in-hand with her cute daughter, 9-year-old Lila Moss, looking chic in black jeans, a tee and a cool jacket. In fact, you could say this is Moss's uniform as she is often spotted off the runway in jeans and a tee and blazer or jacket. Find out how you can copy Kate's effortlessly cool celebrity mom style.
Kate Moss' personal style
"I'll always be a bit rough," Kate Moss told Teen Vogue. "I can be glamorous, but there will always be a little street in there."
In fact, the model said her uniform is "jeans, and a T-shirt, and blazers and a heel." How does she make this casual uniform look so fresh and cool?
"Accessorize with a belt, a scarf, and earrings. It doesn't have to be too crazy," she said. "It is strange to answer fashion questions because it's not really a formula. I think it comes down to rock and roll and glamour — a heel with a bit of leg showing."
Formula or not, by the looks of it, her daughter Lila has her cool sense of style and (lucky girl!) Moss said she is keeping all of her designer clothes to pass on.
"I store everything for my daughter for when it comes back in style," she said.
Recreate the look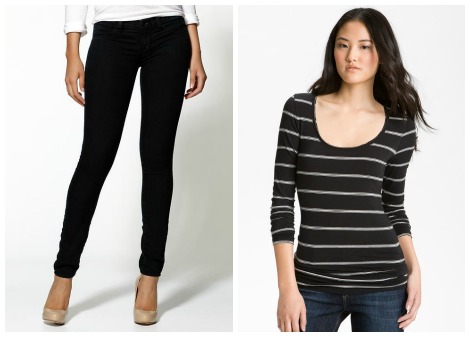 Kate's chic look is on-trend, without trying to hard. The mixed patterns of her shirt and scarf coordinate well and look modern and fresh because they are in the same color scheme. Copy her look by starting with skinny black jeans. Look for denim with a bit of stretch for extra comfort, such as the Denim Leggings by J Brand ($120, Piperlime). They are a bit of a splurge, but they look like denim and have the comfort of leggings — and they are worth every penny! Pair them with a striped top, such as this Caslon Scoop Neck Tee ($26, Nordstrom).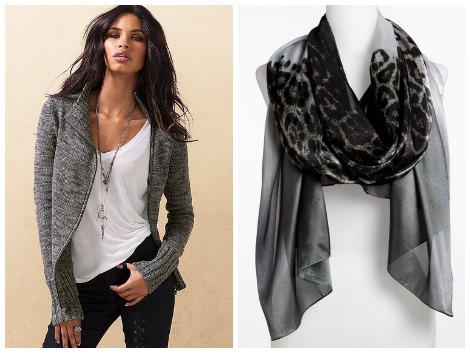 Now that you have your basic jeans and tee, it is time to add a little rock and roll! This gray Moto Sweater Jacket ($60, Victoria's Secret) is the perfect way to "blend biker chic and feminine appeal." Knot a chic black and gray printed scarf around your neck, such as this Leopard Ombré Scarf ($32) from Nordstrom.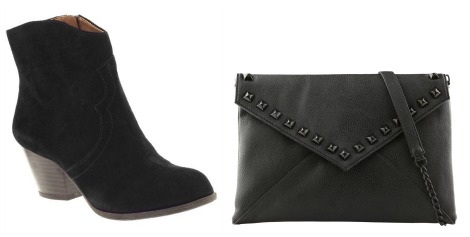 Finish off your Kate Moss-inspired look with this season's hottest boot — the ankle bootie! This black suede Tablita Bootie ($109, Piperlime) is a great pick for fall and winter. A black clutch, such as this Vear Clutch with facetted stones, ($50, Aldo) is the perfect way to polish off your look.
Photo credit of Kate Moss: WENN
More celebrity mom style
Celeb mom style steals: Gwyneth Paltrow
Celeb mom style steals: Gwen Stefani
Celeb mom maternity style steals: Kristin Cavallari