Posted: Nov 08, 2012 9:00 AM
Thanksgiving is just around the corner and so begins a holiday season packed full of parties and fattening food. But instead of skipping the slice of pie or that delicious peppermint drink, slide into some shapewear instead. (It'll be our little secret!)
Banish jelly belly, muffin top, back fat and arm flab in one!
Amy Pederson couldn't find arm slimming shapewear that she was happy with, so she designed her own. Referred to as real shapewear for real women, The Haves is shapewear designed for those looking to smooth and sculpt jelly belly, muffin top, back fat and arm flab. (Isn't that all of us?) Perfect under any 3/4-sleeve or long-sleeve top or dress, the stretchable fabric will be just what you need so you don't think twice about the calories in that second blood-orange martini (Slimpressions, $64).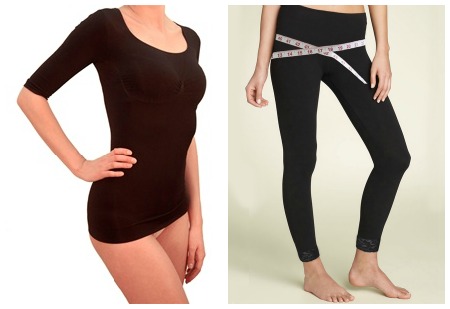 Leggings that are shapewear plus skincare
This turkey day, in addition to being cinched in while you gobble your delicious goodies, your skin can also reap the benefits too. Skineez Shapewear is infused with luxury skincare ingredients (retinol, red algae extract, caffeine, shea butter and vitamin E) that tighten, tone and firm while you wear them. Best part? No one at your Thanksgiving table will ever guess that the Reversible Leggings you are wearing are shapewear made with compression to make your midsection and legs look tighter (Skineez $55). Now who wants that second piece of pumpkin pie? Wink, wink!
Ditch the panty lines
The Leonisa Slimming Shaper Thong offers minimal coverage with maximum tummy toning. (Think no panty lines, plus no muffin top!) It's a win-win. This shapewear is perfect to put under any holiday dress or pair of pants that you plan to wear to your Thanksgiving dinner party (Freshpair, $30).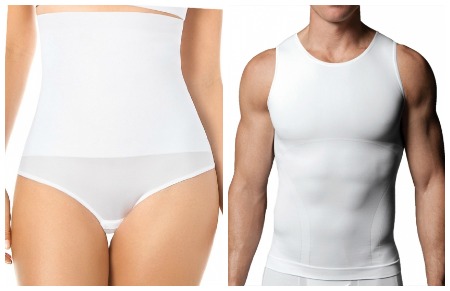 There's shapewear for men, too
Yes, you read that right. You don't have to be the only one getting some assistance from your undergarments this holiday. Now your husband can get in on the action too. The Spanx Zoned Performance Tank smoothes the torso and abs, creating a slimmer appearance. You and your man can smile across the table as you both reach for your second (or third) helping of turkey and gravy (Freshpair, $75).
More fashion tips
How to wear booties
Be your own personal stylist
8 Awesome boots for fall