Posted: Jan 22, 2013 12:00 PM
We caught Reese Witherspoon looking casually chic in a printed scarf and to-die-for booties while out in Santa Monica with her new husband, Jim Toth. We not only found her exact boots, but other pieces in her look so you can copy her must-have celeb mom style.
Reese Witherspoon's style
We love Reese Witherspoon because her clothes look stylish and polished, yet totally approachable. She says her formula for looking great is simple.
"I think women look best in simple things," Witherspoon told Elle magazine, citing Michelle Pfeiffer as one of her style icons.
"Simple things. Simple jeans and simple T-shirts. I tend to buy the same type of things over and over again," she said. "My mother is like, 'You have all these fancy clothes and all you wear are jeans and T-shirts.' I'm just kind of a jeans and T-shirts kind of girl. And flats. And cardigans."
Witherspoon, who has two children with ex-husband Ryan Philippe (Ava and Deacon) and a baby boy named Tennessee with Toth, said she has found the brand of jeans that best work with her body. "I wear a lot of J Brand jeans. If you find one style that fits well, you should buy a bunch of them. I wear a bunch of Juicy dresses. You can wear them with fancy jewelry or sneakers. [The brand] Velvet makes great T-shirts and dresses. I can go from school to a dinner party and feel comfortable."
Recreate the look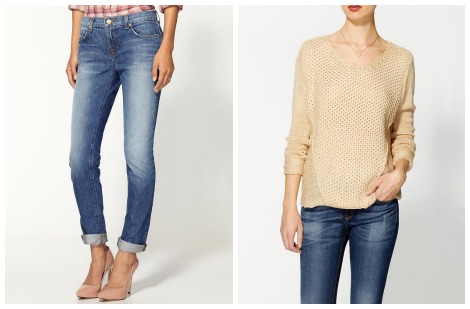 Witherspoon takes her basic formula — jeans and a solid top — and adds some fun accessories with these must-have booties and printed scarf. Copy her look with her favorite J Brand jeans, such as these Slouchy Boy Jeans ($202, Nordstrom). If you can't quite stomach dropping that much change on jeans, the Blue Essence Boyfriend Jeans are just as chic and are currently on sale at Nordstrom for only $58. Pair your jeans with a cool tan sweater, such as this Sunday Pullover by Vintage Havana ($64, Piperlime), and you are ready for your "Hollywood off-duty" look.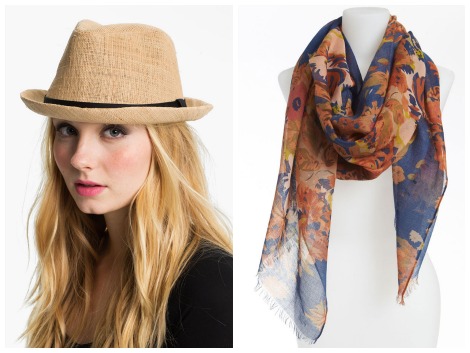 Skip the shampoo and take a cue from Witherspoon and don a cool hat, such as this San Diego Hat Raffia Fedora ($42, Nordstrom). A floral scarf, such as the David & Young Sheer Floral Scarf ($18, Nordstrom), adds a pop of color to your look.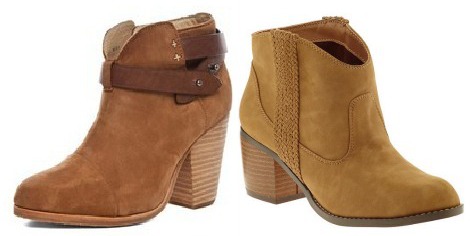 Witherspoon is wearing the fab Rag & Bone Harrow Boot ($495, Diana Boutique). These boots feature a veggie-tanned ankle straps with studs and a stacked wooden heel. You can get a similar look on a budget with these Massey by Michael Antonio Brown Booties ($69, Piperlime).
More celebrity mom style
Celeb mom steals: Gwyneth Paltrow's wedge cut-out booties
Copy Kate Hudson's boho chic style
Kourtney Kardashian's trendy new mom style
Photo of Reese Witherspoon: WENN