Posted: Feb 19, 2013 11:00 AM
Actress Naomi Watts was spotting looking casually chic in a Gap sweater and Isabel Marant wedge sneakers at the screening of her documentary
Beware of Mr. Baker
. Love her look? Find out how you can copy her stylish mom style.
Naomi Watt's style
The Impossible star Naomi Watts always looks polished and chic, whether she is at the park with her son Alexander or walking the red carpet.
How would she describe her personal style? "Eclectic," she tells the Daily Mail. "All kind of looks, depending on how I feel... I like Marc Jacobs and sometimes a nice sharp Gucci suit."
Watts, 44, keeps it simple when talking about her fashion essentials.
"Jeans and T-shirts, sunglasses, maybe a Juicy jacket," she said.
One thing you will rarely find her without? Her favorite mom necklace.
"A gold necklace with a round pendant. The word 'Mama' is repeated over and over again in a pattern, forming a continuous circle. It was a present from my partner Liev. I love it," she said, referring to her husband, actor Liev Schreiber.
Recreate her look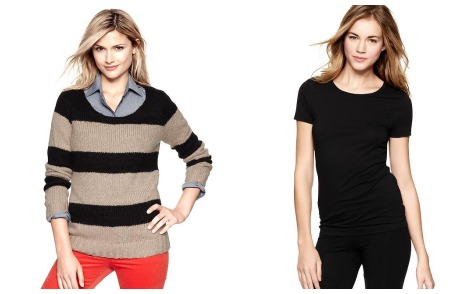 Watts was spotted at the screening of Beware of Mr. Baker looking casual, yet cool, in a striped sweater paired with skinny jeans. The actress skipped over wearing a fancy-schmancy designer top and opted for this chic (and budget friendly!) black and tan Striped Scoop Sweater from Gap (currently on sale for $32). For that trendy layered look, Watts wears a black tee under her sweater, such as this Pure Body Crew T ($12, Gap). For another option, a collared top peeking out from under this sweater would also look stylish.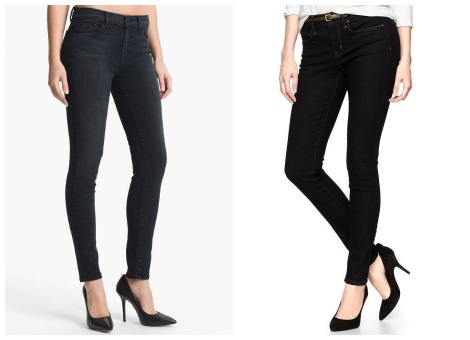 Watts is wearing a cool new line of jeans by 3X1 — however this brand of jeans doesn't actually launch until this spring/summer (ahh... the perks of being a celebrity)! If you can splurge on designer denim, the J Brand Skinny Stretch Denim Jeans are not only chic and flattering, but also ultra-comfortable. For a more budget-friendly option, the 1969 Legging Jeans have that same dark wash and stretch denim as their more expensive counterpart.

Wedge sneakers are the hottest trend for off-duty Hollywood! Watts is wearing the Isabel Marant Bekkett Suede and Leather High-Top Wedge Sneakers ($640, Net-A-Porter). You can copy this same cool street style without breaking the bank with these BDG High-Top Wedge Sneakers in Taupe from Urban Outfitters ($79).
As far as her favorite necklace, Watts is referring to the Tali Gillette Mama Necklaces, which range in price from $425 for the basic white gold to $1995 for the large pendant necklace with pave diamonds.
More celeb mom style
Celeb mom style steals: Kate Moss
Get Gwen Stefani's chic tribal tank
Get Brook Burke's colorful look
Photo of Naomi Watts: WENN