Posted: Feb 25, 2013 4:00 AM
You really want me to put oil in my hair? Yes, we do. You are just going to have to trust us on this, but we promise that you'll love the results. Add Moroccan oil to your must-buy list and see how it keeps your winter hair under control.
How is your hair handling this harsh winter weather? We know it sounds crazy, but adding a bit of oil might be just the trick to managing your mane. Everyone from Hollywood stylists to your teenage babysitter seems to be in on the secret of Moroccan oil. Maybe it's time to check it out.
What is Moroccan oil?
Moroccan oil can reduce wrinkles, minimize scars and stretch marks, treat a dry scalp and revitalize dry hair.
"
"
Moroccan oil , also known as argan oil, comes from kernels inside the fruit from the argan tree, which grows almost exclusively in Morocco. It is rich in vitamin E, essential fatty acids and antioxidants. The oil is difficult to extract and available in limited supplies, which fuels the hype. Fans of the unlikely beauty aid rave about how Moroccan oil can reduce wrinkles, minimize scars and stretch marks, treat a dry scalp and revitalize dry hair. Be sure to choose cosmetic-grade argan oil rather than the food-grade oil, which is roasted to bring out a nutty flavor.
How it rescues your hair
Blow drying and styling rob your hair of natural oils, making it dry and more difficult to manage. Add the dry air of winter to the mix and your hair is screaming for some moisture. Use argan oil as an all-over deep conditioner by applying a generous amount of oil to your dry hair — from roots to ends — then wrapping your head in a warm towel for 30 minutes. Wash your hair and style as usual afterwards. To treat a dry, flaky scalp massage some Moroccan oil into your roots and leave for 30 minutes, then wash and style as usual. For overall shine, drip a small drop or two of Moroccan oil in your hand, rub palms together and run your hands lightly over your hair.
Where to get it
Moroccan oil is quickly becoming an essential ingredient in many beauty products for skin, nails and hair. Many of these products have multiple ingredients in addition to the Moroccan oil, so check labels to see how much you are really getting. We found a few great products to try — in every price range.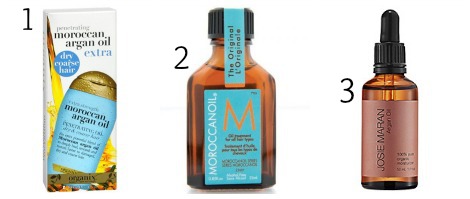 Organix Penetrating Moroccan Argan Oil

(Drugstore.com, $6/3.3 ounces) is formulated for coarse, dry hair and contains argan oil plus other ingredients to restore shine and moisture to your dry hair. This product is also available in a light formula.

Moroccanoil brand offers an assortment of products to choose from, including this

argan oil treatment

for all hair types (Moroccanoilproducts.com, $17/.85 ounces). A little goes a long way, so this is a great way to try argan oil and see how it works on your hair.

Josie Maran Argon Oil

(Sephora, $48/1.7 ounces) is 100 percent argan oil purchased from women's cooperatives in Morocco who work together to protect and reforest the argan trees. The eyedropper ensures you only use a small amount. Use this for your hair and your skin, and see what a difference it makes.
Give Moroccan oil a try for your dry, winter hair. You just may have found your hair's new BFF.
More hair care
Dry, dull hair is out!
Does your winter hair make you look old?
Dirty hair day accessories