Posted: Feb 07, 2013 7:00 AM
Looking less than bootylicious? Let us help you find the jeans that best flatter your body type and your bum... not to mention your budget! Whether you are trying to minimize your backside, lift it up or show it off, we have rounded up the best denim for your derriere.
Pack your unflattering mom jeans away! We polled the experts to find out how you can find the best type of jeans that will make your man do a double-take!
How can I make my butt look smaller?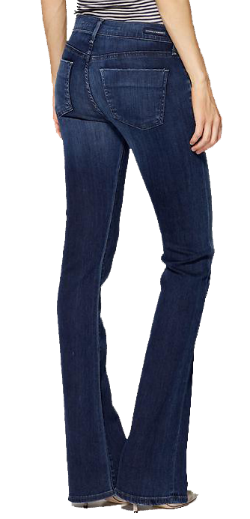 Hands down, this is the jeans dilemma that most of us face. "If you want to minimize your bum, it is always good to find jeans that don't draw attention to that specific area," says stylist Lindsi Lane. "Jeans with detailed butt pockets, such as patterns or rhinestone details, can instantly give the appearance of a larger bum, making your frame look bigger in general."
Have fun accessorizing your look with a cool statement necklace or colorful scarf, but keep your jeans' pockets simple, such as those seen on Seven For All Mankind denim. "Stick to a style with a plain back or pockets," said Lane.
Fashion editor Suze Yalof Schwartz says it is not only what is on the pockets, but where they are placed.
"It's all in the pockets. Too small and too large of a pocket make your rear look larger," says Schwartz, who was the former Executive Fashion Editor at Large of Glamour magazine. "You want your pocket to sit in the middle of each cheek and large enough to host only your fingers."
Pictured are the Citizens of Humanity Emannuelle Slim Bootcut Jeans from Piperlime. For a budget-friendly option, check out the Old Navy Women's The Rockstar Bootcut Jeans.
How can I perk up my droopy derriere?
Jeans with higher pockets will instantly give the illusion of a perkier backside.
"J Brand, Page [Premium Denim] and Citizen [of Humanity] are brands that care for your derriere," says Schwartz.
What about bootcut versus skinny jeans? Or those cool colored denim?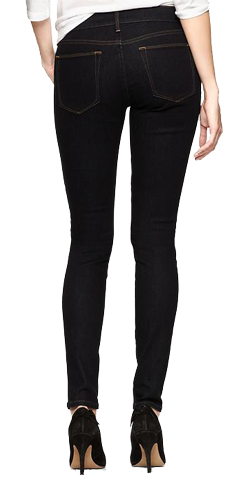 "Bootcut jeans balance everything out and the darker the denim the more slimming the effect," says Schwartz.
Don't be scared off by skinny jeans or colored denim, however! The pictured 1969 Legging Jeans from Gap are a great example! Keep pocket placement in mind (see tips above) and pair skinny jeans with knee-high boots or trendy booties to help even out a curvier figure. Those women with sportier builds can wear skinny jeans with ballet flats to amp up their curves.
"There are so many different type of washes and silhouettes of jeans today, which is so fabulous because it leaves us with tons of options," says Lane. "Since everyone is built differently, different items of clothing look different on everyone so try to be as open as possible and experiment when denim shopping. Darker colors always seem to slim out more, but faded jeans are more recognizable, so it's a trial and error experiment in the dressing room!"
The cure for flat booty syndrome
"If you want to maximize your bum, jeans with cool pockets or flaps would help tremendously. They eye goes straight to the detail creating a more voluptuous look," says Lane. If you have a flat backside or more of a sportier build, the right type of jeans can amp up your curves.
Don't forget about the style of the overall jeans, says Schwartz. "The bootcut always makes women look curvier and a higher smaller pocket is best. Also there are great [jeans with] pleated pockets in the back and pockets with a flap that help fake a rounder rear," she says.
Look for brands like True Religion, Joe's Jeans and the pictured Hudson Jeans to help make your backside a little more bootylicious.
More fashion tips
6 Tricks for dressing 10 pounds skinnier
Get Reese Witherspoon's cool, cropped jeans
Embrace the colored jeans trend