Posted: Mar 11, 2013 11:00 AM
With emerald taking Pantone's crown as the 2013 Color of the Year, green fashion accessories are plentiful this spring. Choose your favorite pieces of green jewelry or make a statement with an oversized emerald handbag. Wearing the luck of the Irish has never been so stylish.
St. Patrick's Day falls on the brink of spring — just when many women are tired of dark winter colors, monotonous gray skies and leafless branches. Emerald is the perfect jewel tone to infuse some color into the neutral pieces in your wardrobe. Try one of these lucky seven fashion accessories.
Sparkle in green
Green jewelry sparkles against gold, and the combined colors add warmth and brightness to winter skin. Wear one of the bracelets from the Amazon Jewelry Bracelet Set for a delicate glimmer of color on your wrist or combine all three for a dramatic finish to your outfit (Ruche, $17). The Gem Confetti Drops will add polish to even the simplest sweater and pair of jeans (Anthropologie, $32).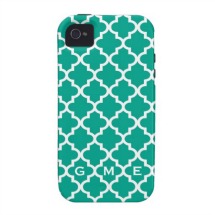 Patterned perfection
If your phone spends more time out of your bag than in — guilty as charged! — let it dress up for St. Patrick's Day. This Moroccan Tile iPhone case in emerald green is festive enough for the holiday and stylish enough to enjoy long after March (Zazzle, $45).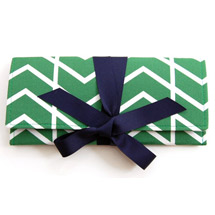 For quick trips
For a night out with the girls, tuck your essentials into the sleek ALEXIS Clutch and enjoy the emerald pattern marrying herringbone and chevron. The navy bow wraps the clutch together neatly. Later, toss it into a larger tote and swoon for just a second every time you grab a lip gloss or credit card (Etsy, $38).
Lucky feet
Whether you're spending your St. Patrick's Day chasing around your little leprechauns or tucking them into bed early and sneaking out for a green-themed date night, let your feet add an emerald pop of color to your outfit. Moms on the run will appreciate the bow detail and comfort of the Sonata Moment Too Soon Flat (ModCloth, $30). Slim denim in a flattering dark wash will show off the gleam of the green patent Profit and Gloss Heel (ModCloth, $43).
Pot of gold
Feeling extra lucky this year? The Robinson Double Zip Tory Burch Tote in Emerald City is gorgeous way to celebrate Pantone's Color of the Year. In Saffiano leather, the tote can be carried by the handles or slung over your shoulder by the removable strap. The gold Tory Burch logo would look just perfect at the end of any rainbow (Bloomingdale's, $575).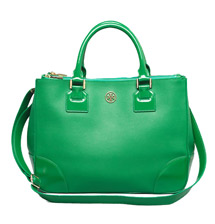 More about accessories
Winter accessories to keep you warm
Hair accessories for bad hair days
Fashion accessories to keep mom stylish