Posted: Apr 05, 2013 1:00 PM
The color-savvy folks at Pantone have deemed 2013 the year of emerald. You'll see it pop up in fashion and home design. So get ready to work this elegant hue into your wardrobe. It's known to enhance a sense of well-being, balance and harmony — so why wouldn't we want to wrap ourselves up in this color. Here's a round-up of easy ways to work this trend.
Get green this spring with 2013's it color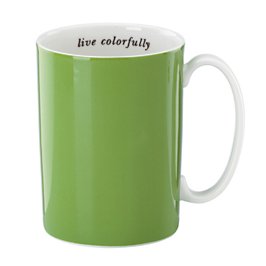 Shades of green have always signaled a sense of renewal and spring's long anticipated awakening. But this year, emerald takes center stage throughout the four seasons as Pantone Color of the Year. Whether you are working it into your wardrobe or adding a pop of color to your home decor, emerald green can bring a sense of elegance and well-being to any scenario.
Fashion houses and home design manufacturers have been hip to the allure of green for some time. So whether your budget is aligned with Target or Nordstrom and your style is vintage versus modern there's sure to be a green hue for you.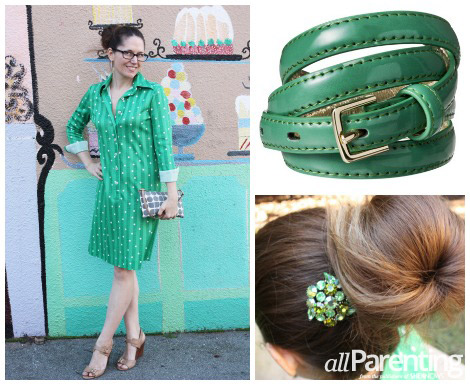 I picked up this vintage 1950s polka dot dress from the famed Alameda Flea Market last summer. A quick hem and a modern shoe takes it from frumpy to festive — and I love how on-trend the look feels. For work, I've been pairing a green belt from Target with black cigarette pants or jeans when I need to punch up my office uniform. For a night out, I love adding a bit of sparkle. This vintage gemstone broach goes well with my go-to sock bun.

The only thing missing from my emerald obsession is a statement piece of jewelry. I'm thinking this Kate Spade bracelet is a perfect for date night when stacked with a collection of gold bangles and a little black dress or standing alone with my favorite skinny jeans and a silky blouse.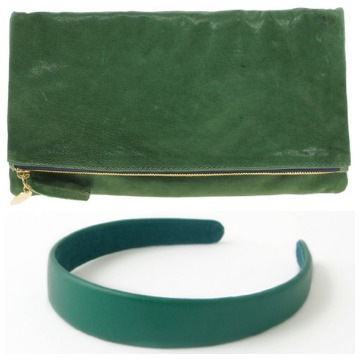 Handbag maven Clare Vivier has a cult following with her signature colorful clutches. I'd double down on the trend this year and indulge in the green version of her timeless foldover clutch. And finally, if vintage gems are not your thing, try a preppy green headband from the stylish girls at Ban.do.
So maybe you're rocking emerald straight from the runway or simply adding a pop of color with a few choice accessories, either way, green's radiance will surely reflect positivity in your life this year.
Estelle Hayes is a freelance writer, blogger and corporate communications specialist. Her blog, Pink Moon Daily is devoted to all aspects of natural beauty and healthy living. She is passionate about sharing organic recipes, gardening tips and tricks and nontoxic make up brands, as well as the best in sustainable and environmentally-friendly insights for a healthy home and family. She lives in the San Francisco Bay Area with her husband and young daughter.
More fashion
Mom-friendly fashion
Jeans that flatter your backside
Tips for dressing skinnier