Posted: Mar 20, 2013 8:00 AM
Ballet flats are a staple in many mom wardrobes, and the weather is just now thawing enough to wear them comfortably. Since it's a simple shoe, I love to go bold with the color or pattern to liven up my daily outfit.
I want to be the hot mom in heels. I really do. I see them at preschool pickup sometimes. I have seen them in the grocery store. They have on tight jeans, usually. Los Angeles is inherently a casual city. They look good in heels, I always think it.
I feel shorter in flats, it's true. But I also feel less grumpy. And that's worth a lot.
"
"
But I am not the hot mom in heels at preschool pickup and the grocery store. Now that I've tasted the freedom of flat shoes, I'm a convert for my daily life. I feel shorter in flats, it's true. But I also feel less grumpy. And that's worth a lot.
I wear flat boots and trendy pointed flats, but the thing I reach for the most often are my wide array of ballet flats. I wear them with skinny jeans, cargos, shorts, tights, dresses (short and long)... even my favorite yoga pants. Since my sensitive feet are prone to blisters, I choose my ballet flats wisely. They must fit correctly, with a bit of support.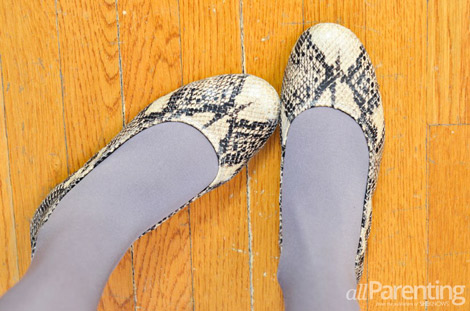 Ballet flats work with full-footed tights or those that stop at the calf or ankle. I wear flats with all styles of jeans, but if your denim is baggy, make sure it's hemmed so that it doesn't drag, since this can look frumpy.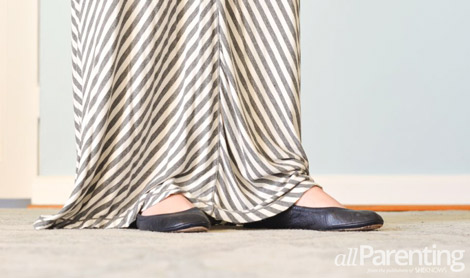 Flats are a must with long dresses. Most of the time heels with long dresses in the daytime looks too fussy for me. Ballet flats are a good compromise to pair with trendy maxi dresses.
The classic ballet flat has been especially popular since Audrey Hepburn made them part of her style uniform. My favorites are the Tory Burch Eddie Flat. They're comfortable and last a long time, despite tons of wear.
Others I have my eye on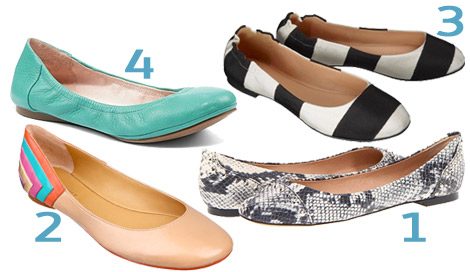 As a busy mom, wife, and writer, I choose comfort above all else for my footwear. A simple ballet flat offers me the flexibility of style, while still looking polished.
More about fashion
Make a splash in must-have rain boots
Nice butt! Jeans that flatter your backside
3 Mom bloggers whose closets you'd love to raid