Posted: Mar 25, 2013 11:00 AM
Men love lingerie. Women don't. However the one thing we do know is that the secret to a healthy marriage is compromising and getting it on in the bedroom (every so often). So ditch those ratty pajama pants and surprise your partner with a sexy and spicy outfit that is perfect for the bedroom but isn't so uncomfortable it makes you want to tear your hair out.
The only lingerie most married men see these days is in the latest Victoria's Secret catalog that arrived in the mail last week. In fact, men everywhere were hoping that Valentine's Day would be their lucky day to see their hot wife strut around in a tiny thong and garter belt. In reality, most of us threw on our tried and true comfortable pj's. True story — my neighbor's husband gave her a gift card for Victoria's Secret to buy something special for the big day. What did she come home with? A sweatsuit she'd been eyeing. Needless to say, the husband did not have a sweatsuit in mind.
Sure it's hard to imagine shopping for something other than yoga pants and cute flats, but you might just surprise yourself in what you find you like to wear underneath it all.
Leave something to the imagination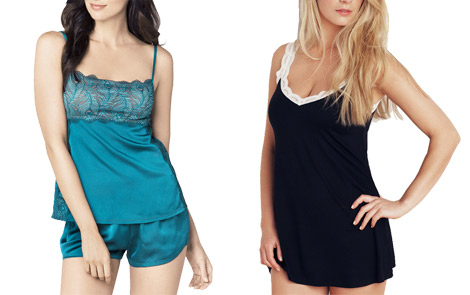 You don't have to wear next to nothing to get him turned on. Leaving a little to the imagination is going to turn him on even more. Try this Harlow Satin Cami Set ($60) for example, it's sexy enough to show a little but you get to wear shorts or the Lace Trim Babydoll ($40), which is so girly. If you like the look of these sets, you could surprise him every month with a new outfit from IntiMint, which delivers handpicked lingerie-inspired pajamas, lounge wear, bras and panties to your doorstep.
Comfortable is sexy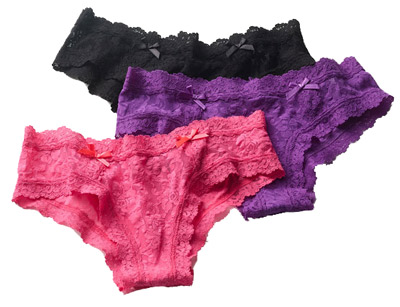 Remember when you used to wear his favorite T-shirt to bed when you were just dating? Do that again. Be inspired by Fifty Shades of Grey and handpick his favorite button down shirt and pair with boyshorts like the Hanky Panky Signature Lace Cheeky Hipsters ($32). Wearing an outfit like this might just take him down memory lane. If that look doesn't rev his engine, try something he identifies with, like sports. The PINK collection at Victoria's Secret ($30) will get him going. Pick his favorite MLB sports team, sport the T-shirt, pair with boyshorts and he should be good to go.
No outfit necessary
If the thought of spending money on something for the bedroom doesn't sound as appealing as buying that new handbag you want or it's just not in the budget, what you do need to invest in every so often is new bras and underwear. Women are notorious for not caring properly for their intimates and after awhile gravity does start to take over. So next time you are shopping instead of opting for the plain white T-shirt bra and cotton briefs, reach for something a little dressier with lace and frills. The Gap Body Lily Lace Soft Bralette ($30) and Hipster Tanga ($15) is the perfect combination of comfort and sexy. Not to mention, it's budget-friendly and is something you can wear everyday and for your pillow talk.
The moral of the bedroom story is... Think outside the lingerie box because you never know what surprises are in store for you if you put your creative mind to it.
More on dressing for the bedroom
What your husband wishes you'd wear
Hot sleepwear for summer
What's your mom pajama style?