Posted: May 05, 2013 8:00 AM
Whether you're going out with your girlfriends or your significant other, a little bit of glitter goes a long way to complete your out-on-the-town look. This simple glitter-tipped manicure how-to will leave you as sparkly and as glittery as can be and ready for a big night out!
There's nothing quite like glitter to make a girl feel ready for a night out on the town. And there's definitely nothing like manicured nails to pull a look together. Put these two wins together for your next big night out with this simple glitter-tipped nails how-to. The process is unbelievebaly easy, and the look is pure fabulous. You're going to love these glitter tipped nails!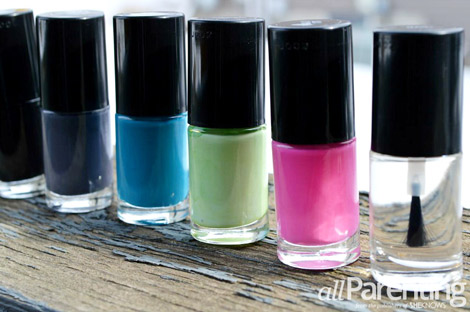 What you'll need
What you'll do
Glitter-tipped nails look beautiful on bare nails as well as atop neutral, pastel, bold or metallic nail polish colors. Choose your favorite look and follow these five easy steps to creating your out-on-the-town ready nails!
Apply a clear base coat on clean, dry nails and allow the polish to dry.
If you're using a base nail color, apply two coats, allowing each layer to dry.
To create glitter tips, brush away the excess glitter nail polish from the nail brush. Then, starting at the tip of each nail, brush a medium layer of glitter nail polish toward the base.
Repeat for a second layer of glitter, allowing each one to dry.
Finish your glitter-tipped nails with a top coat.
Clever manicure tips
All of the nail polish brands and tips we've suggested are fast drying and long lasting. Try these clever manicure tips to make your diy manicure even easier!
For easy nail polish removal

, consider pouring some nail polish into an old wipes container and soaking your nails for approximately one minute before wiping away the nail polish. The polish comes off easily and the excess remover can be reused.

And for even faster drying nails

, spray your wet nails with

PAM cooking spray

. Wait about one minute before washing your hands, and your nails will be completely dry.
More on must-have nails
Should you try a gel manicure?
Mom must-have: Dermelect lilac polish
Nailing it