Posted: Apr 19, 2013 10:00 AM
How many days in a row have you worn your favorite pair of mom shoes? You know the ones: they may be cute and comfortable, but when it comes to their sexy-rating, well... These real moms have dug into the back of their closets and pulled out their favorite sexy shoes to inspire you to do the same!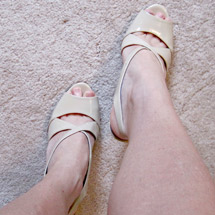 Her sexy shoes: I purchased these at Nordstrom in Houston and wore them with a really skimpy dress with Cleopatra sequins around the neck to my husband's medical school reunion, because I thought everyone in Houston would be scantily-clad and wearing sequins. Wrong! Most of them were really dowdy-looking doctors, so I ended up looking like a hired escort. But, I love the shoes and now wear them anytime I have a fancy event to attend.
Her sexy shoes: My husband actually picked these up for me because I adore purple. They're the perfect pop of color in my oh-so-neutral wardrobe. Plus, I love them because they are ridiculously high, make my tush look great and my legs long, which they're not! I'm only 5 foot-1!
Her sexy shoes: I adore these shoes because I took a chance and ordered them from what I thought could even be a fake website. When they arrived, I opened the box, and they were, in a word, perfect. They're 5-inches tall and I wear all five of those inches with happiness!
Her sexy shoes: In my real life, I'm living in jeans and flats. But in my imaginary life, I'm rocking my Manolos 24/7. The last time I wore these I was literally shaking in my shoes onstage, reading my writing in front of a couple hundred people. I'd like to think they gave me courage I needed to stand tall!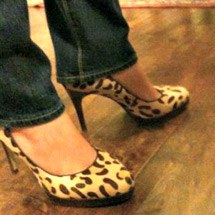 Her sexy shoes: I'm not much of a heel wearer, so when I pull on these shoes, my husband tends to give me the side-eye and, wisely, adds an extra 10-minutes or so to our arrival time! But, everything from the color to the heel to the bow make these shoes my absolute favorites. So — late or not — I wear them!
Her sexy shoes: These prize cowhide-cheetah-spot Steve Maddens were last worn about a year ago, on a date night with my hubs. I love them because I feel super sassy, yet chic, when I rock them — they're the perfect icing-on-the-outfit with jeans and a solid top and great for pulling on when I feel like I've lost my edge!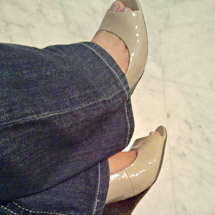 Her sexy shoes: I admit that I bought these pretty Kate Spade heels a few years ago and have never worn them outside of my house! They are so tall and have no support for my wide, clumsy feet — I'm certain I'd fall on my face if I even tried to walk down our front stairs. But, every once in a while, I try them on with an outfit, just because.
Her sexy shoes: At 5-foot-1, these are my favorite real mom shoes. I wear tennis shoes with my yoga pants, but when I head to campus [Kelli is currently a law student!], surrounded by a bunch of teenagers, and need to look like I'm not quickly approaching 40, I slip these on. I wear them no less than three times a week and if I had enough awesome jeans to wear them with more often than that, I would!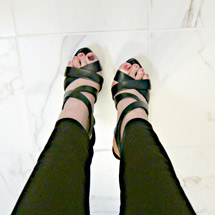 Her sexy shoes: I bought these heels for a wedding I attended on a rare kid-free weekend about two-years ago. They're tall and I wore them all night, dancing and even checking them out in the window reflection — enjoying how much better my dress looked with legs that were 5 inches longer! Now I see them in my closet and laugh... I guess there is a time and a place for those fantastic heels — rare, but fantastic.
Her sexy shoes: My snakeskin sandals are my favorite pair of kicks right now, although my preschooler wears them more than I do these days! The last time I wore these heels was on my wedding anniversary last year, strolling along the Las Vegas strip with my hubby — sans kids.
Her sexy shoes: I love these shoes and bought them recently for no real purpose. They simply called to me and I answered! Though I usually rock TOMS on the daily, I dream of where I'll test-drive these babies — like a club, where I have no business going!
Her sexy shoes: My sexiest shoes are the shoes I wore when I was a member of the Listen to Your Mother cast in San Francisco, last May. I really just wanted something that would give my confidence a boost — and boy, did these rock! They are 4-inch heels (the tallest I've ever had) and they are amazingly comfortable.
Her sexy shoes: These Fendi Butterfly shoes were purchased with my loving husband, Ben, on a two-week trip we took to Greece, Turkey, Croatia and Italy. Our adventure wrapped up in Venice, where we were attending a black tie event and I needed an entire outfit to wear! I don't wear these beauties often, but I do pull them out every once in a while and take a mental vacation to Venice.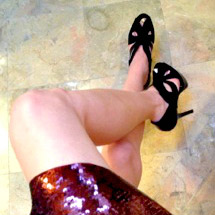 More on shoes
Help! My pregnant feet are too swollen for shoes!
Mom must-have: Cute, comfortable shoes
5 Kicks for your closet