Posted: Apr 16, 2013 12:00 PM
E! News host and mom Giuliana Rancic was spotted at the Big City Moms Biggest Baby Shower Ever event, rocking this year's hottest trend: bold florals! We have rounded up similar items so you can copy her chic celebrity mom style.
Giuliana Rancic's style
Fashion Police star Giuliana Rancic is often spotted rocking the hottest new trends. However, she confessed that being a mom has changed her priorities.
"My secret is doing things that are quick," said Giuliana, who welcomed son Edward Duke in August with her husband Bill Rancic. "For instance, I don't wash my hair every day and blow dry because it takes time away from being with the baby. I try to find things that make my life a lot easier."
Although easier doesn't mean you will see her schlepping around in sweats!
"I'm trying to wrap my mind around how to juggle work and a baby. I fear [that] I'm going to be one of those women that has a baby, and the next thing I know, I'm walking around all day with a side ponytail, eating chips and wearing flip-flops and not wanting to be sexy for my husband. I don't want the baby to be an excuse," she told Us Weekly.
Giuliana has even launched her own line for HSN called G. by Giuliana.
"It's super affordable, easy to just wear," she told People. "I'll be wearing it on my shows. I think people are really going to like it."
Recreate her look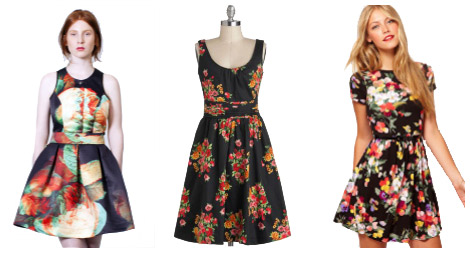 Giuliana's chic A-line dress is The Hellers Alisa Dress, which has a bold digital orange flower print with vintage glass buttons ($465, The Hellers).
If this dress is not quite in your budget, not to worry! Flower the Leader Dress from Mod Cloth has that same chic A-line cut with feminine clusters of red and orange flower blossoms and is a fraction of the price as Giuliana's designer dress at $125. Another option is this ASOS Skater Dress in a large floral print that is a steal at only $38! This dress features the same flared skirt and bold floral print as Giuliana's dress.
Giuliana wears nude pumps that instantly lengthen and slim your legs — not to mention they go with everything in your closet. Copy her look with some Cicero Nude Patent Heels by Franco Sarto ($89, Piperlime). Giuliana is wearing a gorgeous gold cuff from Rustic Cuff that is personalized with her son Duke's name and his birthday in Roman numerals. You can also accessorize your look with this eye-catching gold bracelet, such as this Gold Bars Cuff Bracelet ($22, Piperlime).
Giuliana may have a natural olive complexion, but you can give your own skin a fresh-from-vacation glow with the Sephora Collection Tinted Self-Tanning Body Mist ($15).
More celebrity mom style
Steal Hilary Duff's trendy mom style
Get Kate Hudson's casually chic look
Get Gwyneth Paltrow's droolworthy cut-out booties
Giuliana Rancic photo credit: WENN