Posted: Apr 02, 2013 6:00 AM
Modern Family
star Julie Bowen looks fab in the April 2013 issue of
Lucky
magazine — and, lucky for you, we have rounded up similar items so you can copy her cover girl style.
Julie Bowen's style
Julie Bowen looked amazing on the cover of Lucky magazine — but it was her fresh and colorful look on the inside spread that really caught our eye!
Bowen, who is mom to three boys (Oliver, Gus and John) told Lucky that she is trying to amp up her style — with the help of Kristen Stewart's stylist.
"It was a big evolution in style for me to grow up and say 'I need to take fashion seriously for my job.' I have a stylist now, and she's trying to get me to wear more revealing stuff," she said. "She's Kristen Stewart's stylist. I go there and see all this amazing funky stuff and I know it's for her. If I get K-Stew's castoffs, that's all right with me."
The 43-year-old actress said that she has a hard time with being called beautiful. "I don't even know what to say about that, because then, I'd have to acknowledge I was some kind of attractive ideal and that's just not the way I was raised. Plus, I feel like I look like the pale girl in some Flemish painting."
Recreate her look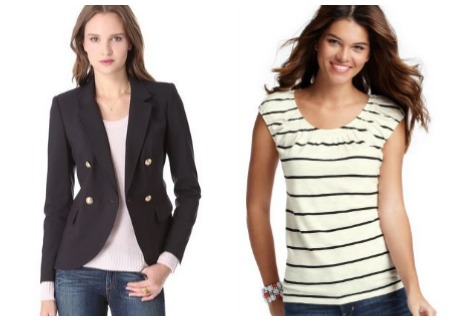 Bowen is wearing the Juicy Couture Sharp Suiting Blazer ($198, currently on sale from $248) which features a notched collar and flap pockets. She pairs her jacket with the PureDKNY Simone Stripe Jersey Tee ($125). However this Petite Striped Peasant Tee gives you a similar look at a budget-friendly price of $30 (Ann Taylor Loft).
Bowen is wearing pink leather Joe's Jeans — which are sold out everywhere! You can get her similar look, however, with the Colored Skinny Jean by Michael Kors in ultra pink ($60, Piperlime). She gives her look a little bling with the Single Rolo Strand from BaubleBar + Nina Garcia Chain Collection for only $42.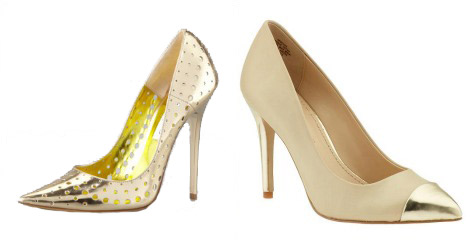 Those shoes are amah-zing... and for $795 they better be! Bowen is wearing the Jimmy Choo Mime Perforated Mirrored Leather Pump (Neiman Marcus). Yes, we know no shoes will quite compare with Jimmy Choo, however these Wrenn by Anne Klein Heels with the metallic gold cap toe will give your look a little bling without breaking the bank!
More celebrity mom style
How to get Victoria's Secret model hair
6 Tricks for dressing 10 pounds skinnier
Celeb mom style steals: Reese Witherspoon
Photo Credit: Ruven Adandor/Lucky Magazine