Posted: Jun 11, 2013 11:00 AM
Gwyneth Paltrow looked fresh and fun in a purple Victoria Beckham shift dress paired with Michael Kors sandals at the opening of the Tracy Anderson Flagship Studio. Love her look? We have rounded up similar items so you can copy her chic celebrity mom style.
Gwyneth Paltrow's style
Gwyneth Paltrow's celebrity style is (almost) always flawless and on-trend, which is undeniably helped by her padded bank account and all the hottest fashion designers on her speed dial. However, you can copy her looks without maxing out your credit card.
Paltrow, who has two kids (Apple and Moses) with Coldplay frontman Chris Martin, shares her fashion tips on her website, Goop. Yes, sometimes she can be a bit out of touch with us normal moms, although she does have some great fashion tips on her Goop website that you can incorporate into you style.
"For casual weekends, city walks and the school run, we're mixing bright colors and bold geometrics," writes Paltrow. "For a night in with guests, a long skirt manages to look dressed up while still conveying a relaxed feel."
In fact, even though she can count designers Stella McCartney and Victoria Beckham as her personal friends (who can't, right?), she also loves more affordable clothes like J. Crew.
"I have loved J. Crew ever since I bought my first gray oversized rollneck sweater out of the catalog in 1992 (I wish I still had it). Great clothes, great price point."
Of course, never count out the power of the perfect lipstick.
"Beauty, to me, is about being comfortable in your own skin. That, or a kick-ass red lipstick," said Paltrow.
Recreate her look
Paltrow looked amazing in this purple mini shift dress that pulled in a pop of color with her black and orange sandals. The actress is wearing the Victoria Beckham Silk and Wool-Blend Mini Dress, which retails for $1,995. Gulp! For a similar look for much, much less, you will love the split neckline and deep purple color of the Trapunto Detail Dress by Addison (Piperlime, $89).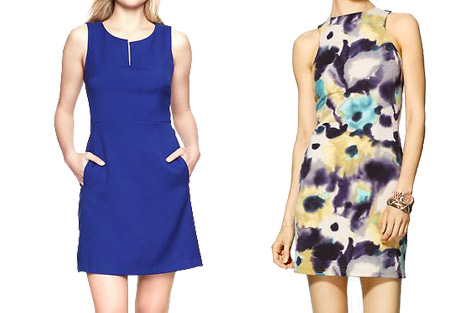 Not a fan of purple? We found this gorgeous "Becca Blue" Stretch Split-Neck Dress from Gap ($69) that would fit and flatter a variety of body types. This style of dress could also be paired with tights for work or worn with strappy sandals for a more casual look. If you have a passion for prints, you will love the watercolor print of this Floral Ponte Mini by Tinley Road (Piperlime, $69).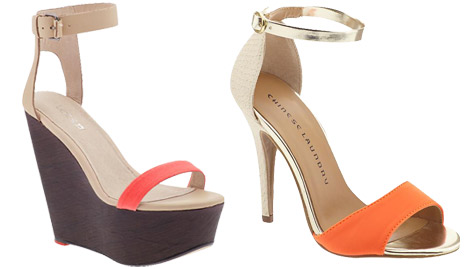 Gwyneth gives her purple dress some pizazz in these fab black and orange Michael Kors fall 2013 sandals. However, these drool worthy shoes are not yet available for us normal folks to purchase. Copy her look with the Khloe by Joe's high wedge sandal (Piperlime, $99) that features a nude leather and orange neon strap. Another fun option is the Lucky Charm by Chinese Laundry with the chic orange strap and metallic ankle strap (Piperlime, $69).
More celebrity mom style
Found! Gwyneth Paltrow's cut-out booties
How to get Victoria's Secret model hair
Celeb mom style steals: Julie Bowen
Photo Credit: Brian To/WENN.com