Posted: May 08, 2013 8:00 AM
Enormous earrings were one of the first things I latched onto when discovering my signature style. I was just out of college, I had an unusual job as a television production assistant and the demanding work meant I needed to dress comfortably most of the time. This meant tennis shoes and T-shirts. So how do you make that look cute? Flashy jewelry! Fast forward a decade and my work-at-home mom uniform isn't all that different. I may be wearing jeans and a tee, but I also probably have an enormous necklace on my chest.
In some ways, statement jewelry almost works best when the rest of the outfit is really casual. Otherwise, you run the risk of looking inappropriately overdressed. A simple white T-shirt is always a great canvas to show off a big necklace, but make sure the shirt's neckline works with the jewelry.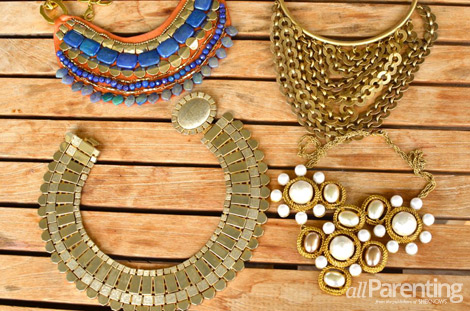 Statement necklaces not only amp up a casual outfit, they also make boring clothes fun. That little black dress you can wear anywhere? No one will ever notice a style repeat if you swap out the eye-catching jewelry. I once wore a (very) dramatic necklace to an engagement party, and my friends still bring it up. They remember the bling, but they have no idea what I wore with it.
For the most impact, a necklace is the way to go. Big earrings can have the same effect, but my kids are still little enough to pull on my ears, so I avoid purchasing anything that might look tempting to little fingers. Bracelets and rings add nice sparkle, but nothing brings attention to your smiling face like a chunky necklace.
J. Crew Crystal Cupcake Necklace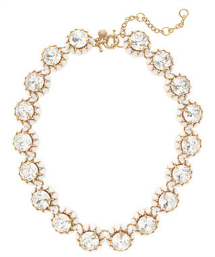 Stella and Dot Pegasus Necklace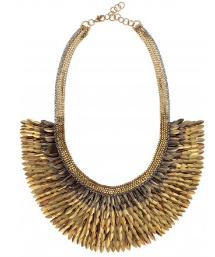 This is one of those magical pieces that can look good with almost anything. The style works equally on a country club mom or a rocker wife. Something this simple (but big) in crystal and gold will give you the most bang for your buck.
This style is not for the faint of heart, but if you're going to make a wild statement, this looks chic. As seen on Kim Kardashian, this necklace will get you noticed. Pair with a solid color to keep it from being overwhelming.
Target Gold Irregular Necklace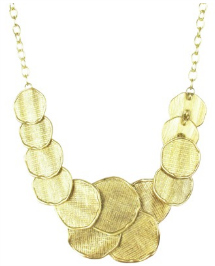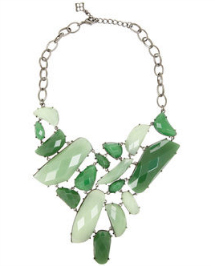 A more budget-friendly classic is something like this. The shape is funky enough to be interesting, but keeping it all one color makes it less risky. This would be a good starter piece if you just want to try out the statement jewelry trend.
I was pleasantly surprised by the great collection of oversized jewelry at BCBG. This green piece is a little more trendy than classic, but the color is great. Something like this would be nice with a maxi dress.
Juicy Couture Rhinestone Cluster Collar Necklace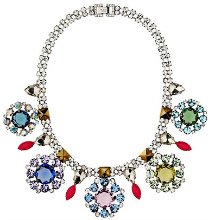 Now this is the type of necklace that gets me all giddy, but I know it's not for everyone. Make the outfit playful, not serious. This is colorful and fun and might just put a bounce in your step on date night.
In sunny California, I wear my statement jewelry all year-round. But if you're new to big pieces, the warm months are the best time to make a visual impact with a necklace. Show off your collar bone and sun-kissed skin with something shiny.
More about fashion
Hipster trends you're not too old to wear
Get green for spring fashion
Bold ballet flats