Posted: Jun 12, 2013 11:00 AM
It's tempting to grab your favorite pair of flip flops as you're leaving the house, but espadrilles offer a stylish alternative in summer shoes. Whether you're more comfortable rocking a nautically-inspired flat or pair of towering wedges, the straw base is steady and stylish.
Summer fun can mean long days outside and on your feet. Sliding into flip flops might seem like the most comfortable option, but with little support and the tendency to slip around, they can be less comfortable than they look. Flat espadrilles cushion your entire foot for all-day comfort.

Your feet will thank you for the combination of style and comfort in the Tory Burch Beacher Espadrille Flat (Bergdorf Goodman, $115). The nautical navy stripes are perfect for summer styles from casual shorts to stylish sundresses. If you prefer polka dots, try the feminine Lindi Espadrille in red and white (Target, $20).
Between flat and fashion model, a mid-wedge heel is the perfect way to stand a little taller without the need for a foot massage by the end of the night.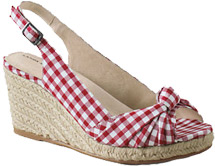 Lands' End offers the Parker, a mid-wedge espadrille in flirty, knotted gingham with an adjustable slingback (Lands' End, $60). With a three-inch heel, the Parker might be more suitable for an afternoon barbecue than a rollicking park play date, but the sturdy straw base with help you keep your balance on uneven ground.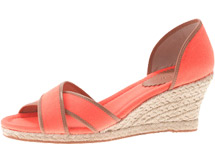 The Maribeth Espadrille (J.Crew, $128) is available in three summery colors — the neon persimmon is a gorgeous burst of coral — and has a full heel to keep the shoe on your foot as you're chasing after a wayward preschooler.
The wedge element of an espadrille keeps your feet from sinking too far into sand or grass, no matter what the height of the shoe. Wear them as high as you dare!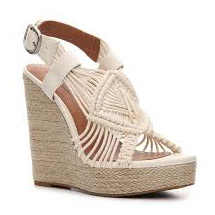 Let your feet flirt a little with the beautifully braided macramé on the Reese Wedge Sandal (DSW, $70). Dress these up or down, and they'll take you from a night of dancing at an outdoor summer concert to a date night under twinkling patio lights.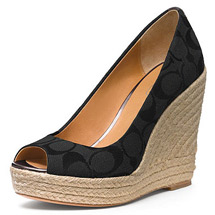 Add almost five inches to your height with the Coach Milan Wedge (Macy's, $178). In both black and khaki, the peep toe will show off your summer pedicure while the sleek design keeps the towering platform versatile and surprisingly neutral.
More about shoes
5 Shoes for every closet
Moms are bringing sexy (shoes) back
Swoon-worthy spring wedges