Posted: Jul 27, 2013 8:00 AM
I'm naturally pale and apply sunscreen daily, so my legs are never perfectly bronzed or beach ready. But in the California sunshine, I refuse to hide them in long pants. I wear shorts all spring and summer.
For a few years in my 20s, I gave up wearing shorts entirely. I can't recall if they fell out of style or just fell out of favor with me, but suddenly shorts seemed like the sort of attire that should only be seen on children, tourists and runners.
Something must have been wrong with me.
Several summers back, after a particularly hot spell, I bought a pair of cutoff jean shorts. Cutoffs! At my age! I felt borderline obscene. But they were really, really cute. And I found a surprising amount of ways in which to style cutoff jean shorts.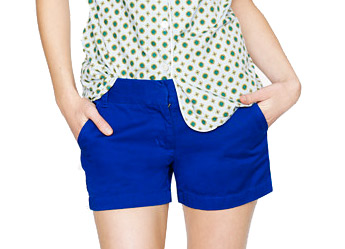 Slowly but surely, I've added a few more pairs of shorts to my outfit arsenal and they are one of the first things I reach for when the weather turns warm. I'm no longer ashamed (or confused) by cute shorts.
If you're unsure, start with J.Crew. They have the most basic mom shorts in all sorts of colors and patterns, and in a variety of lengths. J.Crew has nice sales, so I stock up on these when I can.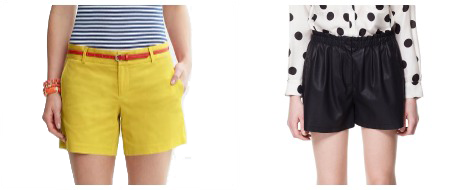 These sateen shorts from Banana Republic ($50) have a very conservative cut, but the bright color is anything but dowdy.
OK, the opposite of conservative is this pair of leather effect shorts from Zara ($60). These are probably for the more advanced fashionista, but something like this can be dressed up for a summer night, a great alternative to a little skirt.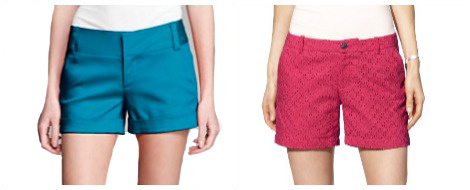 These Alice + Olivia Cady shorts ($165) are super pricey, but are really flattering and comfortable. I know because I own a pair in metallic. If you bought them in a basic color, you could wear them for years as a staple.
I was impressed with this pair of red eyelet shorts from Target ($15). The eyelet is on trend with summer's super feminine vibe, and the color makes it more wearable and less precious than something light.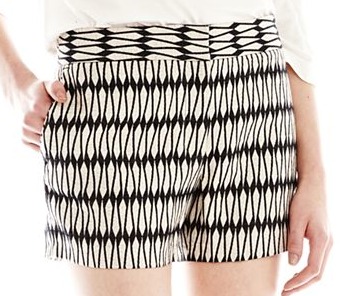 The new Joe Fresh line for JCPenney had several patterned styles I liked, including this jacquard ($29) pair. The black and white means you could wear it with lots of different tops, and it is definitely not boring.
I spend my summer days chasing kids and staying busy — a great pair of shorts is the best way to look cute but stay comfortable. I like a medium-length inseam, and some detail that makes it stand out. Don't be afraid of the mom shorts anymore!
More about fashion
Hipster trends you're not too old to wear
Swoon-worthy wedges
Ditch the diaper bag