Posted: Jun 06, 2013 9:00 AM
Before you stock up on sunscreen, check out our roundup of the best nontoxic sunscreens. Keep your family safe from harmful UV rays, while avoiding dangerous ingredients and hidden allergens.
Staying safe in the summer sun is easier said than done. I have very fair skin, and together with my sunburn-prone husband, we made one of the whitest, redheaded babies in the Western world. So, skin protection is sort of my thing. While it's important to protect your skin from harmful UV rays, you also need to be aware of the dangerous chemicals lurking in many mainstream sunscreens. Before you shop, check out this roundup of natural, nontoxic and effective sunscreens for your family.
The Environmental Working Group publishes a Sunscreen Guide every year (the 2013 guide should be out soon) and it's a must read for anyone who plans to leave the house this summer. Seriously, they do the research so you don't have to and their Skin Deep database is filled with brands that they have vetted so you can comparison shop from the comfort of your computer.
Since having a baby, we've kept a rotating arsenal of sunscreen from California Baby, Alba Botanicals and Badge. A brand called Suntegrity gets top ratings from the EWG, and it's at the top of my list to try this summer. I like to save the thicker sunscreens from California Baby and Badger for applying on our bodies and the more emollient options from Alba and Suntegrity for delicate areas like the face, ears and neck. Kids can get fussy about sunscreen, but I strongly suggest making this a part of your everyday routine, just like brushing your hair and teeth.

Apply, re-apply and re-apply
If you're heading to the beach, pool or amusement park, remember to start your day with sunscreen and then re-apply every couple of hours. I pull out the sunscreen every time we stop for a snack, beverage or potty break. I'm also pretty obsessed with hats and sunglasses as an added layer of defense.
Get label savvy
Overall, when shopping for a new sunscreen, you will want to learn to read labels and avoid the following:
Nontoxic sunscreen roundup
Here are a few trusted nontoxic brands that you can find in Whole Foods or online: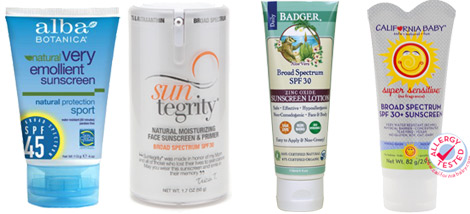 More skin care
Beauty benefits of seaweed
Why you should replace your facial moisturizer with oil
Clean your face with oil