Posted: Jun 20, 2013 9:00 AM
Between sun and chemicals, summer can wreak havoc on your hair. Learn how to keep your hair smooth and soft as you have fun this summer.
You know you're supposed to protect your skin from sun damage, but what about your hair? Find out how you can protect your hair from discoloration and brittleness this summer.
Is the sun really bad for your hair?
Did you ever try to get "natural" highlights by sitting in the sun with lemon juice in your hair? Those free highlights were actually sun damage. As with harsh hair treatments, exposure to the sun's harmful rays can leave your hair dry, discolored and brittle. Your scalp is also a sensitive area that should be protected from the sun to lower your risk of developing sun damage and skin cancer.
How does the sun affect color treated hair?
If your hair has been color treated or chemically processed, it can be extra susceptible to discoloration from the sun. If you spend a lot of time outdoors, talk to your stylist about what types of color treatments are right for you. Some treatments can offer protection, such as natural henna dyes.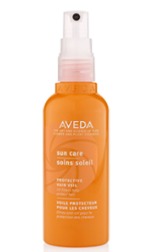 Do styling products protect hair from the sun?
A hat is the best way to keep your hair safe from the sun. When it comes to styling products, follow directions carefully and always reapply after swimming. For solid everyday sun protection, use a leave-in conditioner with sun protection. If you're going to be spending a lot of time outside, layer with styling and finishing products that offer UV protection, such as Aveda sun care protective hair veil. (Aveda, $27)
What about kids?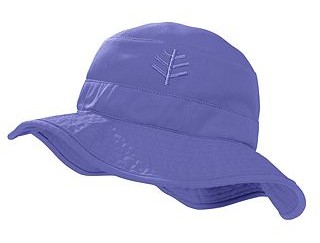 To best protect your kids' hair and skin from sun damage, look for hats that offer UV protection. Keeping in mind that kids can be picky about what they want to wear, try to stick to hats with a wide brim to offer protection to the sensitive skin of the ears and face. Sun hats should be worn whenever kids are spending time playing outside, especially during peak sun hours. (Coolibar, $25)
Is there anything else you can do?
Pay attention to what your hair comes in contact with. During the summer, saltwater and chlorine swimming pools can cause additional damage to your hair. Try leaving in your regular conditioner or going extra heavy with leave-in conditioner. Wear your hair in a braid. After sun exposure or chemical exposure, rinse your hair as soon as possible.
More hair care
Moroccan oil for your hair
Dirty hair day accessories
Rock rainbow hair