Posted: Jun 19, 2013 10:00 AM
Bermuda shorts, maxi dresses and wide-leg pants are all on trend this season, but with short legs, won't they make me look even shorter? Here are a few quick tips to make the long look work for you, even if you aren't model height.
I'm not tall by any means. I'm 5'3" and on most days, it doesn't bother me, except when I want to wear a maxi dress. They look so good on the models showcasing them in the latest InStyle, but how does one pull it off without actually having those long legs? Thankfully, it's not as hard as it seems and anyone that is my height or shorter can wear these longer hemlines and look fabulous doing it by following a few key style guidelines.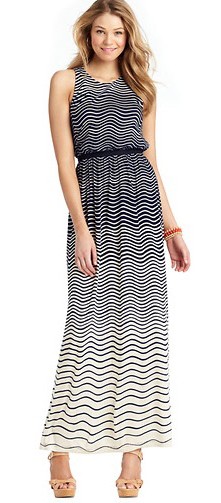 Shop the petites section
Just like when you buy a pair of jeans, they are meant to fit everyone from 5'10" to 5'. Same goes with dresses and skirts — they fit all heights and sizes and you will most likely need to have them hemmed to fit you. To avoid this, try shopping in the petites section. To be "petite", usually means that you are 5'4" and under and that more often than not, you need to have everything hemmed to fit. Most retailers offer a petites or short section which offers the same selection of clothes as the regular size section but just with shorter hemlines. Loft offers a great variety of petite looks like this Pretty Waves Tank Maxi Dress ($90) which is fitted on top so it elongates your lower half. Think of all the time and money you'll save when you don't have to go to the tailor once a month.

Wear a wedge
Whether you're wearing a long hemmed dress, skirt, long shorts or pants, always try to add height with a little wedge or heel. While you could go sky-high, it's not necessary, because even a little height goes a long way. For dresses, this season's new sliver wedge is so pretty and won't leave your feet aching after wearing them for a few hours. Try the Splendid Edgewood Sandal ($58) for something low or for a higher wedge with pants and Bermuda shorts, try TOMS Canvas Sandal ($69).
Go fitted on top
When shopping for a maxi dress, look for a strapless or empire waist silhouette. When there is too much fabric, it can overwhelm your body frame and make you look even shorter. The same guideline applies to wearing Bermuda shorts and wide-legged pants, wear a fitted top to avoid having too much volume on the top and bottom. The Gap's 4-in-1 dress ($60) is a great piece that is fitted on top and therefore elongates your lower half. Plus, it can also be worn as a maxi skirt.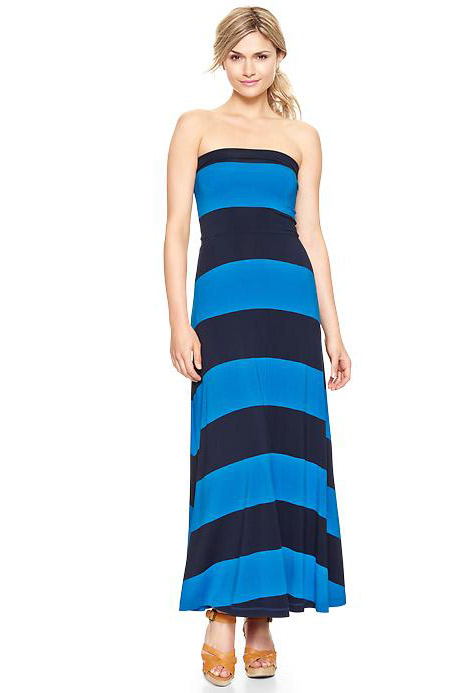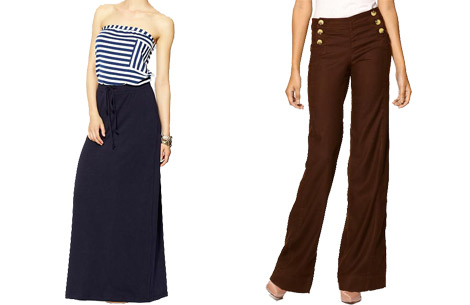 Go for a solid color or small pattern
In this case, there is such a thing as too much of a good thing. I love big, bold patterns, but I try to avoid them when it comes to maxi dresses because they make me look shorter. Just like too much fabric can overwhelm your small frame, a big pattern does the same thing. The best options are to go with a solid colored dress, pants and shorts or something with a very small pattern. This Hive & Honey Strapless Knit Maxi Dress ($69) showcases the best of both worlds with a pattern on top to draw attention away from your short legs, the solid color on the bottom elongates you and the empire waist doesn't overwhelm your frame. For pants, while it's tempting to wear all the cute wide-legged pants you're seeing in the stores, do yourself a style favor and go for a solid color like the Level 99 Melody Sailor Wide Leg Pants ($44) which will elongate your legs.
More on fashion
Top 10 fashion must-haves
French fashion tips for the American woman
3 Mom bloggers whose closets you'd love to raid