Posted: Jul 05, 2013 9:00 AM
Don't cancel your beach vacation because the ocean will ruin your blowout. Instead, protect and repair your hair this season with products formulated to protect your tresses.
Every year at the end of summer, I look at all my split ends and chlorine damaged hair and think, "Ugh, why didn't I try to protect what little hair I have left!" This year I'm making a concentrated effort to start the summer season off right and stock up on products that will protect my hair from damage caused from the ocean, the pool and just the sun in general. Whether you have thick, curly hair or thin, straight hair, no one is exempt from the damage caused by the outside environment. Here's a look at what to stock up on now to get your beautiful hair through the hot summer months.
Avoid the dry out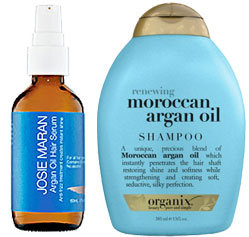 Washing your hair is definitely a good thing to rinse out all the salt and chlorine, but if you wash your hair too much, you're going to leave your hair dry and brittle. To balance out the extra washing that you're doing, try adding a bit of Josie Maran Argan Oil Hair Serum ($30) to the mix to hydrate your strands post-shampoo. The argan oil will penetrate your hair immediately so it can repair and prevent any additional dryness. If a hair serum is out of the question, you can add Moroccan argan oil to your wash routine with the Organix Moroccan Argan Oil Shampoo and Conditioners ($6 each) that are easy to throw in the pool bag and use as you rinse post-swim.
Humidity control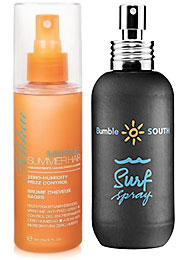 Unfortunately, we cannot turn off the humidity in some parts of the country so rather than battle it, your frizz and flyaways will have to be controlled with plenty of product this summer. The trick with using products in humidity is to keep the frizz factor low and not weigh your hair down with unnecessary oils. One of the best products at doing this is Frederic Fekkai Marine Summer Zero-Humidity Frizz Control ($14). A little spritz will go a long way and it works best for thick, wavy hair to curly hair that just seems impossible to tame. If you have naturally straight hair but the humidity tends to bring out a few waves, embrace the messy beach hair look this summer season by adding Bumble and Bumble Surf Spray ($25) to your beauty routine. With a few spritzes and some finger tousling, you'll be looking fabulous with long, loose waves that look straight out of a magazine.
Sun care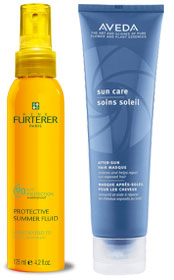 While wearing a hat is one of the best ways to protect your hair and scalp from the sun this summer, it's not always the most fashionable option. A simple protective spray before swimming or sun exposure will help protect your hair from damaging UV rays like the Rene Furterer Sun Care Protective Summer Fluid ($23) which contains water-resistant sunscreen mixed with protective ingredients that are specially formulated for your hair. A product like this is especially important for those that have color-treated hair as the sun can fade any recent color treatment. Of course after you've rounded up all the kids for the pool that day, the last thing you could remember was to spray your hair with sun protection — no problem. There's still the opportunity to repair sun damage with Aveda's Sun Care After-Sun Hair Masque ($26) which repairs and restores natural oils to your hair that may have been dried out from too much sun or chlorine.
While no product is going to repair your hair 100 percent, we all know how long it takes for your hair to grow back once you have a haircut. And think of the coloring treatment you just had that will take a serious turn for the worse if you don't protect your hair this summer. Adding all that up, it's worth it to throw a bottle or two of hair care in with your sunscreen this summer!
More on hair care
Moroccan oil for your hair
No 'poo in action: I went shampoo-free for 30 days
How to get Victoria's Secret sexy model hair