Posted: Jul 12, 2013 8:00 AM
Choosing a sunscreen can be such a chore. This one is good for the face but not the body. This one will go on when you're wet, but not this one. The kids have sensitive skin and does 75 SPF really work? Use this quick checklist for buying sunscreens for the whole family this summer.
First things first — sunscreens do have expiration dates. So if you're trying to get by with your old sunscreen from last summer that is crusted with sand or even from two summers ago, toss it now. It's time to start out the summer season with a few fresh bottles of sunscreen that will protect your whole family from sunburn and skin damage down the road. Each year the Environmental Working Group (EWG) publishes a sunscreen guide for families that lists the best and the worst sunscreens for the year taking into consideration the ingredients, SPF factor and the UVA/UVB protection. With the EWG's top picks in mind and new research on what's really causing sun damage to our skin, this quick checklist will help you shop for safe sunscreens.
The difference in rays
UVA penetrates skin and causes lasting damage
UVB causes sunburn or a tan
We all know by now that SPF stands for "sun protection factor" and that an SPF of 35 technically means that you are able to stay in the sun 35 times longer than you could without wearing sunscreen. However, the term SPF was coined years ago and with each passing year, it seems that the sun gets stronger and stronger. At this point, it's safe to say that reapplying liberally every hour to 90 minutes is the best way to avoid a sunburn. When choosing a sunscreen, be sure to buy one that includes protection against both UVA and UVB rays. What's the difference? UVB rays are what cause sunburn or a tan but UVA rays are what penetrate the skin and cause lasting damage. Not all sunscreens protect against both kinds of rays and it's one of the most important factors of choosing the right sunscreen.
What to avoid
Loose powder sunscreen and sunscreen towelettes were both banned by the FDA in 2011 but smaller companies had one more year of selling the banned products before pulling them from the shelves.
"
"
The EWG has come to the consensus that most multi-functional sunscreens are not what you want to be using. In other words, avoid bug repellent/sunscreen combinations and tanning oils, which both contain sunscreen, but the ingredients for the other functions take away from the potency of the sunscreen. Other products that you may have used in the past, specifically loose powder sunscreen and sunscreen towelettes, were both banned by the FDA in 2011 but smaller companies had one more year of selling the banned products before pulling them from the shelves. If you see either of these products in a store, don't buy them.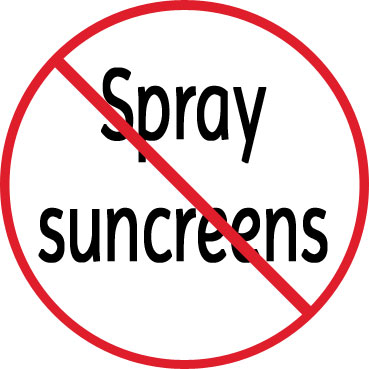 Busy moms everywhere are going to groan at this recommendation, but the EWG and the FDA have both expressed concern over the misuse and inhalation risks associated with spray sunscreens. While it's so easy to spray your kid as he's running in the opposite direction, the fact is they are actually getting very little sunscreen on during that time. Especially on a windy day or if they immediately get back into the water.
Top sunscreens for the family
By now you're probably thinking that every single sunscreen you've ever used hasn't protected you or your family from the sun's damaging rays. While it could be true, the reality is that with each passing year, the research improves giving us a better understanding on how to protect our skin. With over 1,400 sunscreen products tested by the EWG this year, 184 sport and beach sunscreens met their criteria as a "safe" sunscreen, which means that ingredients and the efficiency of the sunscreen were both taken into consideration.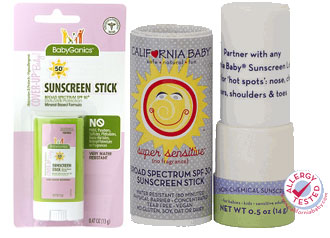 For sunscreen on the go, a stick sunscreen is one of the best options for moms to keep close on hand in a diaper bag or purse to give your face and the kids a once over before too much sun exposure. Two of the highest rated sticks were the California Baby Super Sensitive Broad Spectrum Sunscreen Stick with SPF 30+ ($15) and BabyGanics Baby Pure Mineral Sunscreen Stick 50+ ($8) and both offer excellent UVA/UVB protection and stayed on for the duration of the testing.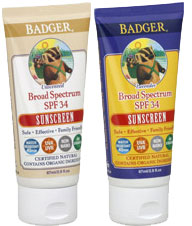 Which sunscreen lotions are the best options for complete sun protection? The EWG gave top ratings to the Badger Broad Spectrum Unscented Sunscreen SPF 34 ($16), or if you prefer something scented, the same sunscreen is available with a lavender scent ($16). The sunscreens are mineral-based and the label indicates that it's water-resistant for 40 minutes.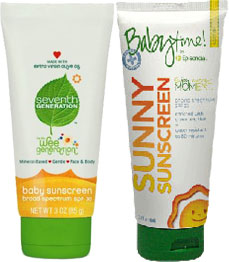 For babies and kids with sensitive skin, using a sunscreen that is specifically formulated for their skin is always a good idea. The EWG ranked Seventh Generation Wee Generation Baby Sunscreen SPF 30 ($14) very high as well as Episencial Sunscreen SPF 35 ($13). Both are free of hazardous ingredients, are water-resistant and safe for newborns (*pending your pediatrician's approval).
Sunscreen is one of the most important items to have in your daily summer routine for every member of the family, and when it comes to picking the right one, there's never such a thing as too much research. To view the complete list of safe sunscreens by the EWG, visit www.ewg.org.
More on sunscreen
5 Sunscreen mistakes you're (probably) making
Sunscreen: Friend or foe?
SPF swimsuits: Help or hype?