Posted: Jul 19, 2013 9:00 AM
Never curled your hair? Start simple with a wand curler. Learn how to position your curls and set them for pretty waves with movement and softness.
This summer, style your hair with touchable, breezy curls. Curling wands are beginner-friendly and easy on the wallet. With a little practice, you'll have sexy, summery waves that don't look overly styled. We've got great tips to get you started.
Find the right curling wand
Curling wands, or clipless curling irons, are available in three main styles. Evenly sized wands come in different barrel diameters. The wider the barrel, the bigger the curl or wave. Tapered wands or conical wands give you body and wave thanks to curls that are wider near your scalp. Beginner-friendly bubble wands have ridges that guide you as you wrap your hair around the wand, giving you even but loose curls and waves.
Prepare your hair for curling
Keep in mind that curling wands work best for hair that's shoulder length or longer. You should begin curling your hair with dry hair. Many women find that it's easier to blow hair straight before you get started. Apply your favorite heat protecting spray or cream before you begin. Don't use gel, leave-in conditioner or products that contain alcohol before you use the iron. Section your hair into four sections and clip the top two sections to keep them out of the way as you work through each section with your curling wand. Find more tutorial photos at The Glossy Life.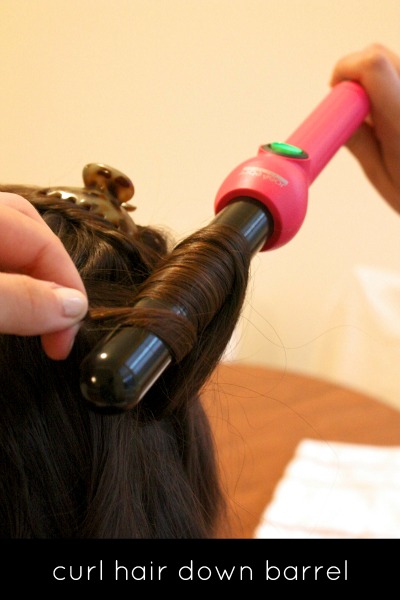 Work on your curling technique
Don't expect a perfect hairstyle the first time you tackle your hair with a curling wand. It may take practice to get used to working with a hot iron and the awkward angles you run into as you wrap your hair around it. As you curl your hair, keep the tip angled down and the cord end angled toward the ceiling. Wrap 1-inch sections of hair around the barrel, working away from your face. As you curl around the back of your head, you can alternate the directions as you wrap. The closer you wrap, the tighter the curls. For beachy waves, leave a space between segments as you wrap around the wand. To keep your hair safe from heat, use the lowest setting needed to achieve a curl and apply the hot iron to your hair for no longer than 10 seconds.
Set your curls like a pro
The real fun comes after you've finished using the iron. At this point, set your cooled-off curls with a touchable spray. Gently finger-comb your hair to loosen the curls and achieve a more natural look. For a big, sexy look, flip over and shake your curls out. You'll get loads of volume and big, breezy waves. Play with your curls each time you use the wand curler until you find the right technique for your hair's texture and your style. Looking for longer ringlets? Blogger Brittany Gibbons shows off her "mermaid curls" in this tutorial.

Products to get you started
Ready to start curling your hair? Here's some great styling gear to get you started, from the best wand curlers to the products you need to protect your hair from heat and hold your curls in place.