Posted: Aug 20, 2013 9:00 AM
If you — or your daughter — are ready for a major change, consider donating your hair. There are several hair donation options where your locks will be much appreciated.
Choosing an organization
The four hair donation foundations featured have varied mission statements and help different segments of the population suffering from hair loss. Each organization strives to make a difference in the lives of the recipients of their hair pieces. No matter which organization you ultimately choose when you're ready to donate your hair, you can be sure that your locks will make a real difference in someone's life.
Locks of Love wants to be sure that children suffering from long-term medical hair loss have the option to choose a high-quality hair prosthesis, regardless of their families' financial situations. Natural-looking hair pieces can cost around $2000, and Locks of Love provides the prostheses for free or on a sliding scale, based on financial need. Locks of Love helps any child suffering from long-term medical hair loss. Most of the children receiving a hair piece are afflicted with alopecia areata. Alopecia areata is a frustrating condition that causes hair loss without any known cause — and without a cure.
Jeffrey Paul, founder of Wigs for Kids, worked with doctors and prosthesis specialists to design his first children's hair piece after his 15-year-old niece was diagnosed with leukemia. Wigs for Kids now helps between 125 and 150 children annually, providing each with a hair prosthesis made with absolute care. Each prosthesis is hand-tied and specially designed and fitted to withstand even the most rigorous of childhood activities. Wigs for Kids assists both adults and children affected by medical hair loss. Each wig uses 150,000 strands of natural hair fitted onto a base molded specifically for each patient.
Kids in Oregon can thank Staci Wright and her mother, Debbie, for starting the Angel Hair Foundation. Staci was diagnosed with bone cancer when she was in the eighth grade. After personally realizing the confidence a hair prosthesis gave her in social situations, she wanted to help other children suffering from hair loss. We wanted to draw attention to the Angel Hair Foundation because of the inspiring example Staci offers as a young woman making a difference in the lives of others. The Angel Hair Foundation currently accepts financial donations, including the option of sponsoring a child with medical hair loss and refers people looking to donate hair to Children with Hair Loss.
Pantene Beautiful Lengths
Pantene understands that children aren't the only ones who feel a sense of loss and suffer from a lack of confidence when they lose their hair. Pantene Beautiful Lengths helps women suffering from cancer-related hair loss regain their confidence during their difficult and painful medical journeys. Beautiful Lengths is a partnership between Pantene and the American Cancer Society.
Sharing their stories
Women, men and children all have the ability to help others through hair donation. Our AllParenting team has several members who are among the hundreds of hair donors around the U.S. Let their stories inspire you to cut for a cause!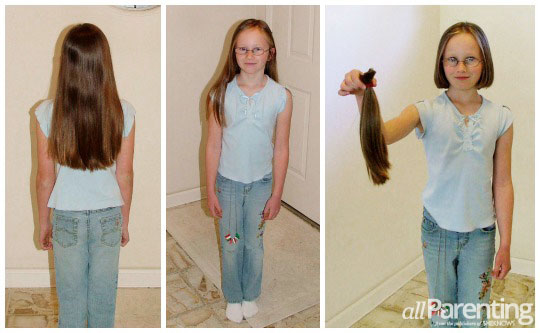 When Kelli Kuhn was in third grade, she traded her waist-length hair for an adorable bob and donated her ponytail to Locks of Love. Her mother, Sherri Kuhn, remembers the experience fondly: "I think it really made her feel good to be helping someone, and it was a fun experience for her!" And young girls shouldn't worry about their hair staying chin length forever. Kelli is now entering her sophomore year of high school, and her hair is this long again!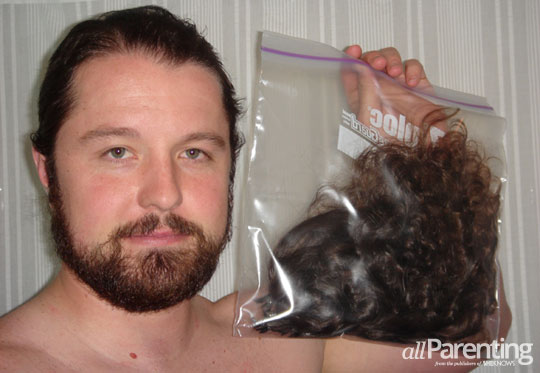 Jason Bahret, Rebecca Bahret's husband, thought, "Why not men?" when he started hearing about women donating their hair to help cancer patients. He explains why he chose Locks of Love, "Locks of Love specifically helps financially disadvantaged children. I wanted to help a child. Also, I have naturally curly hair, and my wife kept telling me how nice it would look on a little girl." Though his current job wouldn't allow for the out-of-regulation hair length required by Locks of Love — 10 inches — Jason said he would donate again if he could.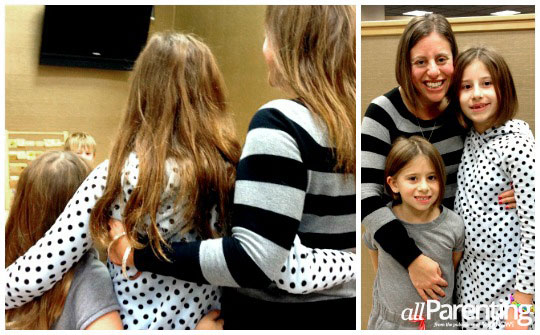 Galit Breen remembered the kind and generous act of a former student who donated her hair every summer and wanted to help instill a similar sense of generosity in her own children. She says, "Last summer when all of our hair was getting so very long, we talked about donating our hair together in passing and before I knew it, it became our plan." Galit and her daughters ended up donating their hair at the same time: a true family effort. "My girls — and I — loved doing every step of this together. It was fun to talk and plan and actually do something good for someone else. And the fact that we did it all shoulder to shoulder made the experience all the more memorable for us."
More about changing your hair
5 New hair styles to try
Shampoo-free locks
Change your hair color, change your attitude