Posted: Sep 30, 2013 9:00 AM
Orange eyeshadow doesn't have to be neon, terrifying or unwearable. This fall's trendy eyeshadow shade can warm up your look in shades from sunny orange to metallic bronze. Try these tips to make the look work for you.
Try tiger eyes
Orange shadow might sound like something best left to trendy teens or toddlers looking for tiger faces, but orange and bronze shades are surprisingly versatile and universally flattering. Orange-tinted bronzes bring out the amber shades in brown eyes and make green eyes sparkle. Brighter oranges are stunning on blue and gray eyes.
Shop your makeup bag
Trying out new makeup trends doesn't have to mean buying all new products. Fall makeup trends often build on the same neutral shades inspired by changing leaves and the movement away from the bright colors of summer.
Look through your makeup for products you can use as a foundation for the look — I used a BB cream for my skin and a neutral eyeshadow palette for the base colors on my eyes, plus liner and mascara I use all the time. With those basics in hand, you can generally purchase one product, like a pigmented color eyeshadow to complete the look. Shopping for one product won't break your budget, which makes it less scary to try out a makeup trend.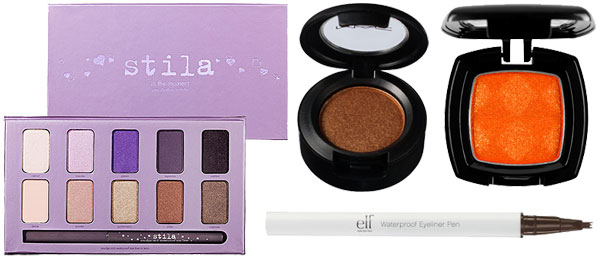 How to create the look
Start with a fresh canvas. The warmth of an orange or bronze eye needs to be balanced by neutral skin. Banish redness with a beauty balm or a color correct cream, easy products that smooth your complexion.
Sweep a cream shadow from lash line to brow bone. I used desire from the Stila In The Moment Eye Shadow Palette (Sephora, $39).
A little at a time, layer bronze shadow from your lash line to the crease of your eye, covering your eyelid. If you're feeling daring, take the bronze shadow above the crease, blending it slightly into the cream shadow at your brow bone. I used M·A·C Cosmetics Eye Shadow in Amber Lights (MAC, $15). Nyx Cosmetics Single Eye Shadow in Hot Orange is a highly-pigmented option that will really bring out blue eyes (Ulta, $5).
(Optional step!) For a little more depth and dimension, use a narrow brush or sponge applicator to apply a dark brown shadow in the crease of your eye, concentrating on the outer third of your lid. The In The Moment palette has two shades that would work for this — Whim and Captivate — but any deep brown will create depth.
Add liner in chocolate brown for day or dramatic black for evening. We love e.l.f. Triple Tip Waterproof Eyeliner Pen in Black for an easy-to-apply liquid liner (Target, $3). Finish with a quick lash curl and a few swipes of your favorite mascara. After all, these tiger-inspired colors deserve a bit of a cat's eye!
More about makeup tips
A 5-minute makeup routine
Make the switch to mineral makeup
Pros and cons of eyelash extensions